Four Seasons Sampler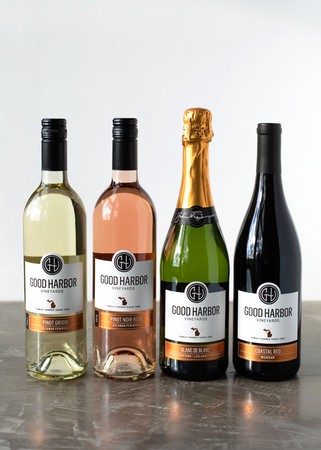 Good Harbor Vineyards Four Seasons Sampler
A diverse collections of delicious offerings that are grown and produced on the Leelanau Peninsula. This four pack of locally grown carefully crafted wines include one 750ml bottle of Blanc de Blanc (Produced from 100% Chardonnay), one 750ml bottle of Pinot Grigio, one 750ml bottle of Pinot Noir Rosé, and one 750ml bottle of a dry red blend wine (75% Marquette, 25% Syrah). It is a collection that has something for every palate.
Pinot Grigio - Vibrant citrus notes on the nose with a delicious zesty palate.
Pinot Noir Rosé - Aromas of cherries and strawberries. Crisp, fresh, and fun to drink!
Blanc de Blanc - A crisp delicious sparkling wine made from 100% Chardonnay.
Coastal Red - Rich with layers of bright red fruit up front hints of vanilla and cocoa on the finish.
About Us
Good Harbor Vineyards has been growing grapes and producing award winning wines in Northern Michigan's Leelanau Peninsula since 1980. A family run business and pioneer of the Michigan wine industry, Good Harbor Vineyards was founded on the principle that everyone deserves quality yet affordable wine.
NOTE: Cellar Assortments are ineligible for the club member discount.