Coastal Effect Red Blends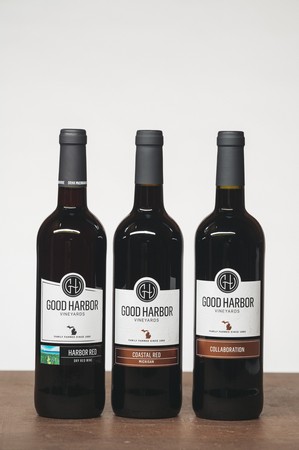 Good Harbor Vineyards Coastal Effect Red Blends
Save $8 off retail price
Try a sampling of these elegant, nuanced cool climate red wines. All three are red blends which make each one unique. The red blends are all dry, fruit driven, and smooth. Each wine is distinctly different because of the varieties used and the wine making techniques implemented. The red wine trio includes the following wines: Harbor Red (Merlot, Marechal Foch, Leon Millot), Coastal Red (Marquette/Syrah), and Collaboration (Merlot, Syrah).
Harbor Red- Soft, fruity, elegant, and smooth. A perfect everyday red table wine.
Coastal Red - Rich with layers of bright red fruit up front hints of vanilla and cocoa on the finish.
Collaboration - A rich, dry, complex wine, with aromas of raspberries and cocoa, Collaboration will warm your soul.
About Us
Good Harbor Vineyards has been growing grapes and producing award winning wines in Northern Michigan's Leelanau Peninsula since 1980. A family run business and pioneer of the Michigan wine industry, Good Harbor Vineyards was founded on the principle that everyone deserves quality yet affordable wine.
NOTE: Cellar Assortments are ineligible for the club member discount.
Must be purchased online to receive discount