Founding Fathers
Honoring Our Forefathers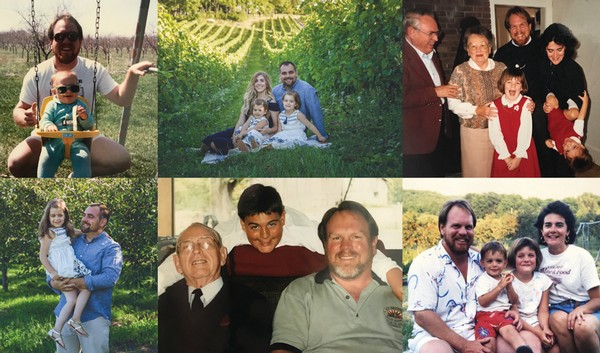 As important part of our family history, we wanted to highlight the fathers behind Good Harbor Vineyards and Harbor Hill Fruit Farms. As a third-generation farming family on the Leelanau Peninsula, there isn't a day that goes by where we don't think about the hard work, vision and sacrifice of our grandparents and parents and realize the great responsibility of working to make sure the farm continues to grow and succeed.
John W. Simpson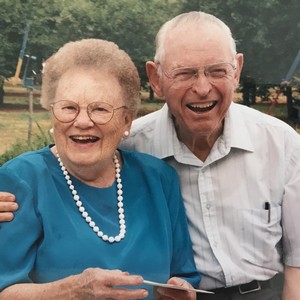 John Simpson, the founding father of Harbor Hill Fruit Farms and Good Harbor Vineyards, was an entrepreneur at heart and a visionary with a focus on community. He and his wife, Millie, had family ties to the Leelanau Peninsula and decided to make the Leelanau Peninsula their permanent residence in the mid 1950s. John Simpson started and ran a successful construction company in Indianapolis for years but decided to sell the company to move North and establish roots for his family.
With the sale of his company, John purchased large amounts of acreage on the Leelanau Peninsula to use for farming as well as real estate. He saved the premier farming sites for the family, and through the years, sold the remaining real estate to home buyers. John's vision to get into fruit farming first started with fruit trees, predominantly pears and plums, to sell as produce to Gerber.
As cherries became a larger focus of growth and marketability, John replaced the existing fruit trees with cherries. Harbor Hill Fruit Farms was the original farming entity created in the 1970s and continues to run and operate the vineyards today. In the 1970s following his oldest son's graduation from Michigan State University, John saw the need to diversify the family farm and offered his son, Bruce, the opportunity to go study grape growing and winemaking in California, at the University of California, Davis.
He wanted his family to be able to remain in farming and saw potential in the grape growing and winemaking industry. Following Bruce's return to the Leelanau Peninsula, he and his wife Millie, along with Bruce and daughter-in-law Debbie, built and opened Good Harbor Vineyards, which became the 4th commercial winery on the Leelanau Peninsula.
Throughout the 1980s and 1990s, John continued with his support of the community beyond the family business. He was one of the lead lobbyists pushing to make the Leland Harbor a Harbor of refuge, in hopes of increasing commerce and tourism for the community. He also was a lead fundraiser to create the Leelanau Children's Center, which is a vital operation of high-quality early childhood education within Leland. In addition, he was a lead fundraiser and spearheaded the finances to build and create the Leland Library. John Simpson believed in family, community, and education. He lived his life leading by example and instilling his values in his family and community.
D. Bruce Simpson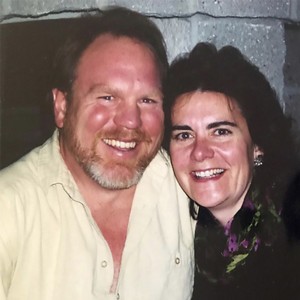 Bruce Simpson, John Simpson's eldest son, was not afraid of hard work from a childhood of growing up working on the family farm. He had an immense love of learning and very much enjoyed the science and innovation that existed in agriculture and winemaking. Bruce grew up on the Leelanau Peninsula and then attended Michigan State University, where he graduated with a degree in agriculture. He appreciated the opportunity to attend the University of California, Davis to learn about viticulture and oenology.
Upon finishing his program, he and his wife, Debbie, returned to the Leelanau Peninsula with a plan to plant vineyards and open a winery with the help of his father John and mother Millie. They started small and continued to increase production throughout the years.
Bruce understood the need to help grow the Michigan wine industry through means other than a tasting room. He was one of the founding members and creators of the Leland Wine Festival, which is the oldest running wine festival in Michigan. He was also one of the original members of the Michigan Grape and Wine Council, which was a government appointed organization with a focus on increasing awareness of the Michigan wine industry back in the 1980s. In addition, he was one of the founding members of the Leelanau Peninsula Vintners Association, which continues today with a focus on promoting the Leelanau Peninsula Wine Trail in hopes of increasing agriculture-based tourism.
Bruce was a leader in the Michigan wine industry but incredibly humble and modest. Throughout his time spent operating and growing Good Harbor Vineyards, he met with many other business owners to help provide advice and winemaking assistance to help new wineries get started in the business in hopes of growing a flourishing Michigan wine industry. Much like his father, Bruce was a man who loved his family and community. He led by example, displaying kindness to others, maintaining patience and a cool collected demeanor at all times. He worked hard to start, operate, and grow a winery as well continuing to operate a large scale fruit farm, always making sure he took good care of his employees.
Samuel T. Simpson
Following in his father's and grandfather's footsteps, Sam Simpson, is the current President of Harbor Hill Fruit Farms and Good Harbor Vineyards.
Much like his grandfather, Sam was an entrepreneur from an early age. His entrepreneurial spirit started with a roadside cherry stand when he was seven. Later in high-school, he started his own landscaping company, which was a success until he could no longer operate it due to college and a change in life plans.
Sam spent much of his middle school and early high school years working on the cherry farm in the summers. He had an immense work ethic instilled in him from his time spent working with his father and also learning from his grandfather. He learned the importance of showing up first and being the last to leave. He learned you must lead by example and as such, you must be willing to do the hard jobs and continue to value those who do those jobs day-in and day-out.
Sam's plan was not to work on the family farm directly following his graduation from Michigan State, but rather, to head into corporate finance with a job already lined up. His plans changed drastically with the early passing of his father, Bruce Simpson, changing the course of his life. He and his sister both moved home to take over the family farm and make sure it continued to run.
A few years into his return, Sam saw a need in the wine industry for a farming service and created Harbor Hill Vineyard Services to fill the demand in the market. Today, it is the largest vineyard service operating on the Leelanau Peninsula, servicing a total of 300 acres.
Sam noticed another gap in the marketplace: mobile wine bottling. After further research, he launched the only mobile wine bottling service in the midwest, The Harbor Hill Mobile Bottling service. It has become a resource that many wineries now rely on for their bottling needs.
Like his father and grandfather, Sam continued to look for ways to support wineries in the region. He created custom crush services, noting the need to service the growing number of tasting rooms, leveraging the existing footprint of Good Harbor Vineyards in a similar fashion to what Bruce had done previously.
Sam loved and admired his grandfather and father and works hard every day to create and grow the business that was created through their hard work and vision. His love of his family and community continue to remain a focus in his life. It is this love that pushes him to look for opportunities to sustainably grow the existing business, grow and promote Michigan agriculture, instill a strong work ethic in his own children. He continues to volunteer his time with the local government to advocate for farmers and a local organization that focuses on early childhood education.
We salute the fathers behind Good Harbor Vineyards and Harbor Hill Fruit Farms and celebrate the vital role that fathers play in all of our lives.