Pinot Grigio
Pinot Grigio Made in Northern Michigan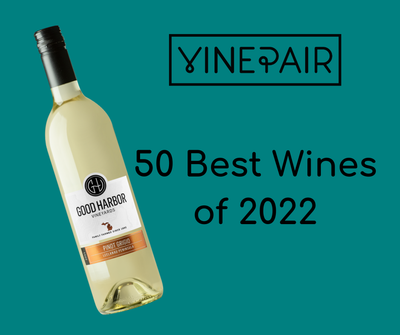 Taste Luxury With the Best Pinot Grigio
Whether you're a seasoned wine aficionado or newly getting into the world of wine, you can't go wrong with a Pinot Grigio. This popular wine has been made in Europe for centuries but was perfected in the north of Italy in the 1960s. Since then, Pinot Grigio has become a staple of wine cellars throughout the world. At Good Harbor Vineyards, we aim to bring the fruity notes of this wine to your dining table. Our team is proud to have created Michigan's Pinot Grigio, ideal for anyone who loves citrusy scents and white wines with balanced acidity. Learn more about this wonderful wine and how our winemakers work toward perfection.
What is Pinot Grigio?
Pinot Grigio is a wine named for the grayish-blue grape it's made from. This grape was first harvested and turned into wine in France but soon became commonplace in Italy as well. Today, Pinot Grigio is popular worldwide but still keeps its roots in Europe. Its namesake grapes prefer to grow in cooler climates and on hillsides, making Northeast Italy an ideal home. Many varieties of Pinot Grigio trace their roots back to Italian regions Lombardy, Veneto, Friuli, and Trentino; however, growers in Northern California, Washington state, and New York have also had success cultivating Pinot Grigio grapes. Good Harbor Vineyards has also found that the Leelanau Peninsula in Michigan is an extraordinary place to grow these grapes.
How Is Pinot Grigio Wine Made?
Pinot Grigio white wine is made in a similar fashion to other wines. After harvesting the proper grapes, the fruit is crushed and fermented until there's very little sugar left over. Many winemakers choose to age their Pinot Grigio in stainless steel barrels, which serve to keep the fresh, fruity flavors intact.
What to Expect From a Sip of the Best Pinot Grigio
Is Pinot Grigio sweet? Is Pinot Grigio dry? These are questions that beginners often have when they're just beginning to cultivate a love for wine. Pinot Grigio is a dry white wine that boasts clean flavors and serves as a refreshing touch to any summer lunch, picnic, or outdoor dinner. While Pinot Grigio may have slightly different notes depending on where the grapes were grown, the following flavors and characteristics often come through:
Citrus
Honeysuckle
Bright
Floral
Aromatic
Apple
Peaches and nectarines (with grapes grown in warmer regions)
Try These Suggested Pairings
There's nothing like a good Pinot Grigio wine pairing. Luckily, this wine pairs well with a variety of foods and desserts, making it a front-runner for Sunday brunches and light summer lunches. In fact, as long as you steer clear of heavy, hearty foods, you'll likely find something that complements Pinot Grigio's taste. Here are some of our favorite pairings:
Light fish (especially with butter sauces)
Clams
Shrimp
Fresh vegetables
White meats
Pasta and rice
Soft cheeses, like brie or ricotta
Crème brûlée
Desserts with berries
What Sets Our Pinot Grigio Apart
At Good Harbor Vineyards, we strive to be known as Michigan's Pinot Grigio. Our seasoned winemaking team is proud to have created a wine that owns its intense fruit flavors and creamy texture. We make careful vineyard management a priority, and that results in a perfect product every time. As a result of our dedication to our craft, our Pinot Grigio has been named one of VinePair's 50 Best Wines of 2022. We're also proud of our many other accolades, including a place on "The Best 30 White Wines for 2023." As our Pinot Grigio continues to gain recognition, we remain just as committed to bringing you the gold standard in white wines.
Join Our Wine Club Today
For the past 40 years, Good Harbor Vineyards has been hard at work creating impeccable wines in Northern Michigan. Based on the Leelanau Peninsula, we're glad to serve Traverse City and the surrounding communities. If you're ready to try some of the best Pinot Grigio Michigan has to offer, join our wine club or visit us in person for a tasting.