Wine Club & Shipping FAQs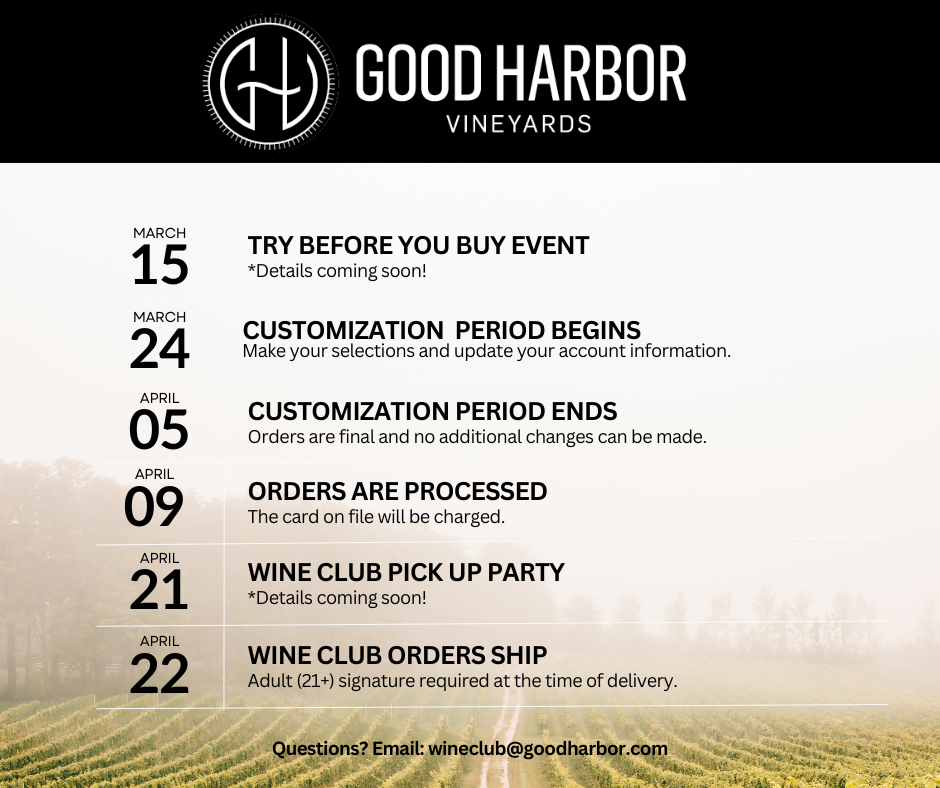 WHAT ARE THE BENEFITS OF BEING A WINE CLUB MEMBER?
The Good Harbor Vineyards' Connoisseur Wine Club benefits include 20% off all wine purchased online or in the tasting room, 20% off all purchases of wine by the glass or cider by the pint enjoyed on our patio, free tasting on any visit for the member and three additional guests and more. Please see all benefits are listed on the Wine Club page.
IS THERE A FEE TO JOIN?
There is NO fee to join. Your benefits begin as soon as you sign up. We will keep your credit card information on file and you will be charged twice a year for your wine allocation. If you cancel before you fulfill both club allocations, you will be charged a $75 fee
HOW DO I JOIN?
You can join in person at the winery or online.
HOW OFTEN WILL I RECEIVE WINE SHIPMENTS?
Wine Club allocations go out twice a year, in April and September. But you are welcome to use your discount to shop online or in person at 20% off all year long!
WHAT WINE WILL I RECEIVE IN MY CLUB ALLOCATION? CAN I CHOOSE MY WINES?
Yes! We ship 6 bottles of wine minimum with every club order, preselected based on seasonality, availability and release dates. Allocations can include sold out and pre-released wines. You are welcome to modify your selections up to 10-12 days prior to shipment, making as many changes as you wish during that time. We provide ample notice via email prior to the club allocation period. If you do not log into your account to make your wine selections by the cut-off date, the winemaker's selections will automatically be selected and your credit card will be charged for those wines.
WHAT IF I WANT MORE/LESS THAN 6 BOTTLES OF WINE IN MY CLUB ALLOCATION?
Each allocation must contain a minimum of six bottles, but you are allowed to add more bottles to each shipment if you prefer at 20% off each.
CAN I BUY WINE OUTSIDE OF THE TWO CLUB ALLOCATIONS PER YEAR? ARE THERE DISCOUNTS?
Yes, you may purchase wine at 20% off year-round as a club member. However, any wine purchased outside of the two required allocations in April and September do not count toward your yearly purchase.
CAN I GIVE A WINE CLUB MEMBERSHIP AS A GIFT?
Great idea! Yes, you are able to sign up for this online or in the tasting room.
HOW WILL I KNOW MY WINE CLUB ALLOCATION IS COMING?
All communication about your membership is conducted via email. Please make sure we have your correct email address on file as this is how we notify you about upcoming orders, charges, shipping dates, and more by logging into your account and viewing your profile contact info. Please make sure the email address wineclub@goodharbor.com is not going to your spam folder as all emails will be delivered from this address.
HOW DO I LOGIN TO MY ACCOUNT?
Select, "Customize Allocation" from the top menu of our website. Scroll down to see the member login area. Enter your username or email and password to login to your account.
I FORGOT MY PASSWORD. NOW WHAT?
Click on "Log In" in the upper right hand corner of the website, then select the "forgot password" option to be redirected to reset your password.
CAN I CHANGE MY SHIPPING ADDRESS OR SWITCH TO PICKUP?
Yes! If you need to change your Wine Club allocation order preference from pickup to shipping, or vice versa, please follow the instructions above to "Customize Allocation" and make the change under "Delivery or Pickup Information" at the bottom of the page. Select from a drop-down menu of shipping to your "Billing Address", add a "New Shipping Address," or select, "Pickup at Winery." Then hit "submit" to make the change.
HOW DO I CUSTOMIZE MY WINE CLUB ALLOCATION?
To customize your allocation and add wine to your order, please follow the these instructions:
Select "Customize Allocation" from the menu bar on the top of the website.
Login with your user name or email and password.
If you don't remember your login credentials, please select the "Forgot Your Username and Password" option to be redirected to reset your password.
Login to your account with your new password.
Select "Choose Wines."
Our Winemaker has pre-selected two bottles of three unique wines. If you wish to make changes to your order, simply modify the quantity for each bottle.
Confirm billing information, payment method and delivery or pick up preference, then click "submit".
I MADE A MISTAKE ON MY CLUB ORDER. WHAT DO I DO?
No worries. Simply log back into your account and make a change, following the instructions above. You have until the announced deadline to make changes to your club allocation order.
WHAT IF I CAN'T BE HOME FOR THE DELIVERY? CAN YOU SHIP TO MY PLACE OF WORK?
Yes! If possible, Good Harbor recommends shipping to a business address for prompt delivery. UPS cannot deliver wine to PO boxes, nor will UPS leave packages on the doorstop. All shipments must be signed for by someone 21 years or older.
WHAT HAPPENS IF I MISS THE DELIVERY AND THE PACKAGE IS RETURNED TO THE WINERY?
UPS will attempt to deliver the package three times. After the third failed attempt, the order will be returned to the winery. You have the option to have the package held for pick up or reshipped for an additional fee.
CAN I SWITCH FROM A PICKUP MEMBER TO A SHIPPING MEMBER?
Yes! If you need to change your Wine Club order preference from pickup to shipping, or vice versa, please login to your online account and change your shipping preference under "Edit Profile" and click the drop down menu under "Ship To", selecting "Pickup At Winery".
WHAT IF THE PACKAGE HAS SHIPPED AND I NEED TO MAKE A CHANGE?
If your wine order has left our winery and you need to make a change to your shipping details in any way, you MUST contact UPS. Good Harbor Vineyards cannot make any changes and is unable to help during that time. If additional shipping costs are incurred, you would be charged by UPS.
WHAT HAPPENS IF I AM CHARGED FOR THE WINE BUT I DON'T WANT IT?
If you wish to cancel your membership and not receive the order, please contact us prior to us charging your account at wineclub@goodharbor.com. Shipments processed prior to the cancellation date are nonrefundable, even if not yet received.
2023 HOLIDAY SHIPPING DEADLINES
In order to receive your order in time for your holiday celebrations, orders must be received by the following dates:
Thanksgiving – order by Nov 11, 2023
Hanukkah – order by Nov 25, 2023
Christmas & Kwanzaa – order by Dec 15, 2023
New Year's – order by Dec 18, 2023
WHERE DO YOU SHIP TO? 2023 SHIPPING RATES AND STATES
Zone 2 (Michigan)
1-3 bottles $23.05
4-6 bottles $25.71
7-12 bottles $33.75
Zone 3 (Ohio, Indiana, Illinois, Wisconsin, Pennsylvania)
1-3 bottles $23.51
4-6 bottles $27.33
7-12 bottles $37.77
Zone 4 (Minnesota, Maryland, New York, Missouri, Virginia)
1-3 bottles $24.65
4-6 bottles $27.65
7-12 bottles $40.92
Zone 5 (Colorado, Georgia, North Carolina)
1-3 bottles $25.79
4-6 bottles $31.08
7-12 bottles $45.91
Zone 6 (Florida)
1-3 bottles $26.61
4-6 bottles $34.12
7-12 bottles $53.70
Zone 7 (Texas, California, Arizona)
1-3 bottles $29.26
4-6 bottles $38.75
7-12 bottles $60.37
WHAT HAPPENS IF I DECIDE TO CANCEL?
We will be very sad to see you go. As membership benefits begin immediately (including free tastings and discounts), members wishing to cancel their membership before fulfilling the two yearly allocation requirement will be charged a $75 cancellation fee. Shipments processed prior to the cancellation date are nonrefundable, even if not yet received. Once the membership is cancelled, all membership benefits will end.