Women in Wine
MILLIE SIMPSON, Co-Founder of Harbor Hill Fruit Farms & Good Harbor Vineyards

In recognition of Women's History Month, we honor Millie Simpson for her work and dedication to her family and the growth of the family farm. Millie was a smart, headstrong, dedicated woman who was passionate about education, travel, and nature. After graduating from high-school in Indiana, she pursued a degree in Education at Indiana University. She graduated with a Bachelor's of Education in 1941 and began teaching 1st and 2nd grades when she was 25 years old. After 10 years of teaching primary grades, she decided to pursue another path and was admitted to the nursing program at Yale University. She dedicated the next two and half years of her life to studying and earning her degree in nursing. It was a career suited to her personality. She was a smart and caring woman who wanted to contribute and make a difference wherever possible. She decided to return to Indiana where she spent the next two years teaching medical nursing at the Indiana School of Nursing.
Upon returning to Indiana from Yale, Millie met John Simpson. The two had a mutual love of education, travel, family, and a love of Northern Michigan. They had both spent time up in the Northern Michigan area as children and continued to visit as adults. They married in June of 1950 and continued to work and travel together. John ran his construction business and Millie continued teaching. At the age of 37, in May of 1953, they had their first son named David Bruce Simpson. As the family started to grow a bit older, John and Millie decided to move their family to Northern Michigan on the Leelanau Peninsula. Due to the success of John's company, Millie was able to care for the family full time while John operated his construction business in Indiana; they were a dynamic team.
After several years of managing the business from afar, John and Millie decided it was time to make a change. They decided to sell the construction business and invest in property in Northern Michigan. With the proceeds of the sale, they purchased acreage on the Leelanau Peninsula to begin farming. The couple kept the best farming parcels to grow fruit trees for what would become known as Harbor Hill Fruit Farms. The remaining parcels were sold as real estate developments. While John managed the farming part of the business, Millie took care of the family and of the office work to support her husband's vision. Millie did not have aspirations of creating a large scale fruit farm and eventually a winery, but she continued to support her husband and eventually her son and daughter-in-law in their efforts and decisions. She was a modest, humble, smart, and gracious woman who put family first.
Outside of family and business, Millie immersed herself in community efforts. Her special interests included the Leland United Methodist Church, Leelanau Children's Center, Leland Public Library, and the Leland Historical Museum. Her desire to work in places that helped build and further educational efforts drove her to spend her time working with these organizations. She found great joy in working with inspirational women through the Leland Garden Club, watching and studying birds, sewing, and playing bridge.
When asked to describe Millie Simpson, her friends had the following memories, "she was a no-nonsense person with a very subtle sense of humor. She was a wise woman and the rock of her family. She was incredibly bright and committed to helping build and improve her community."
DEBBIE SIMPSON, Co-Founder of Good Harbor Vineyards
In celebration of Women this March, we want to recognize the efforts of Debbie Simpson in the establishment and growth of Good Harbor Vineyards. Debbie discovered the Leelanau Peninsula as a teenager when she attended high-school at the Leelanau School in Glen Arbor. It was there she met Bruce Simpson. She left the area to pursue her degree in Art Education at Michigan State University. Following graduation, she made her way west where she spent time working in Portland, Oregon. She and Bruce continued their courtship post college, while he was attending the University of California, Davis.
Upon the completion of his studies, they made the decision to get married and return to the Leelanau Peninsula to run the Simpson family cherry farm, plant vines, and build and open Good Harbor Vineyards. It wasn't long after they moved back to the Leelanau Peninsula that they had their first child and began their family.
Debbie's role at Good Harbor was operating the tasting room, creation of label and brand design, and general customer service - on top of being a full-time mom. Debbie was a natural at customer service. As a result, she built a loyal clientele through the years that enjoyed stopping in to talk one-on-one with her and to have a connection with the owner and the family story. Her charm, charisma, clever wit, humor, and honesty is what many customers grew to love.
Her love of art and education made the Good Harbor brand and labels stand out on the shelves in a growing Michigan wine category. She wanted to integrate her love for art and decided to contact local artists to request permission to use their artwork on the Good Harbor labels. Her love of art and family is what helped make the Good Harbor brand stand out. The high-quality wine, the affordable pricing, and the inviting atmosphere and excellent customer service that Debbie inspired in the Good Harbor tasting room is what kept customers coming back year after year.
After forty years of dedication to the growth of Good Harbor Vineyards, the Michigan wine industry, and her family, Debbie finally decided to retire and pass on the business to her children to see the family farming legacy continue. She now enjoys spending time with her grandchildren, making more time to enjoy the local area with her friends, and taking more time to travel and seek adventure. Her efforts within the wine industry are not often written about publicly, but her impact to help grow the brand with each new and returning customer are significant. Her commitment to the business, her passion for people, and her love for family are all values that are at the core of Good Harbor Vineyards. We value her hard work and are grateful to be able to recognize her as an important figure at Good Harbor. Thank you, Debbie!
J. TAYLOR SIMPSON, Co-owner of Good Harbor Vineyards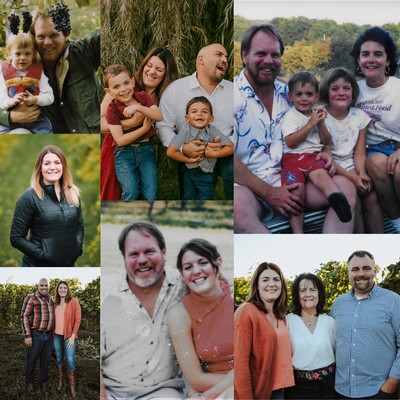 Taylor has always had a deep love for the Leelanau Peninsula and the family farm. Growing up in a farming family provided a deep sense of pride and connection to the place. Taylor spent much of her childhood in the winery and tasting room with her mom, Debbie, observing and learning about sales and customer service and the importance of both to a growing family business. In addition, she would spend time in the wine cellar with her dad, Bruce, the winemaker and head of farm and business operations observing his daily tasks and how varied they were. She and her younger brother, Sam, grew up surrounded by dedicated entrepreneurial parents and hard working farming employees, which set the expectation for work ethic and what it takes to make a farm and winery succeed.
Taylor attended and graduated from the University of Michigan with a joint degree in Spanish and Latino Studies. She had considered using the degree in the world of wine focusing on wines from Spain. Following graduation, she moved to Chicago where she started working in On-Premise wine sales for Southern Wine and Spirits. It seemed like a good path to see if she was interested in pursuing importing wines and also to learn more about distribution. Throughout the six years she spent with Southern Wine and Spirits, she continued to transition upwards ending in a Key Account Managerial position focusing on fine wines in downtown Chicago. Her experience and education in wine and distribution sales proved to be invaluable when abruptly moving home following her father's passing.
Upon returning to the family farm, Taylor and her brother Sam worked to keep the family farm intact and running. Taylor took on administrative duties and the front of house roles focusing on sales and distribution for the winery in addition to market expansion. Over the course of her time leading sales, distribution, and marketing efforts, she has continued to work in tandem with her brother to grow the business in an authentic and sustainable way ensuring that Michigan wine continues to raise the bar on the national wine scene. Her love of family, the region, and the wine industry runs deep and is a direct reflection of the role her parents, grandparents, and community have played in shaping her life and values. The passion to grow the family business and an industry, started in part by her parents and grandparents, drives her to continue to push the boundaries in hopes of creating a respected business that works to support Michigan agriculture, her family and children, and the larger surrounding community.