Giving Back
Philanthropy and Community Giving
As part of the Simpson Family Estates, Good Harbor Vineyards is focused on creating a thriving Leelanau Peninsula community that is family focused and fosters a world class educational system for children. We believe the foundation of any healthy community is built on the well-being of its families and children and that equal access to early childhood education is a crucial part of this.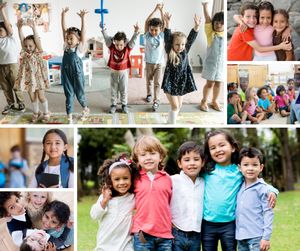 The roots of this belief goes way back to grandpa and grandma John and Millie Simpson, the founders of Harbor Hill Fruit Farms and Good Harbor Vineyards. In the early nineties, their local Methodist church hosted a childcare center in its basement. As the population grew, so did the need for quality child care and education.
The church donated a space for a school adjacent to its house of worship, then John and the church board raised money from generous donors to build the Leelanau Children's Center, which is still a critical part of the community today.
John and Millie created the Simpson Family Fund, an endowment to help cover tuition gaps for families who can't afford to send their children to the Leelanau Children's Center, making sure every child has the opportunity to attend a high-quality education program.
This center serves preschoolers, ages 30 months to 5 years, with an emphasis on early relationships, early experiences, and child-initiated play-based learning. The monies from Simpson Family Fund will go towards paying teachers well, providing tuition-free learning to marginalized children and will one day help build a bigger facility. The endowment now includes a scholarship program that in 2022 is providing free tuition to 8 students of migrant working families.
"Access to early childhood education is more important than ever," says Sam Simpson, an owner and managing member of Simpson Family Estates. "Early childhood education is important to the success of any community. A community is only as thriving as a healthy family foundation." The Leelanau Children's Center provides opportunities for children to grow and develop and for families to prosper. It is through the growth of these children that we will continue to build a strong, supportive, local community for all members.
Our continued commitment to the Simpson Family endowment at the Leelanau Children's Center is crucial to providing equal access for all community members to this world class organization.