Good Harbor's 2021 Pinot Grigio Continues to Gain Recognition
January 26, 2023 | Features, Tasting Room, White Wines | Devon Kessler
Good Harbor's 2021 Pinot Grigio Continues to Gain Recognition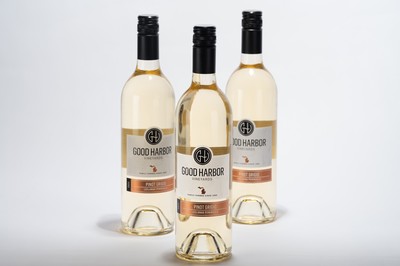 Good Harbor's 2021 Pinot Grigio continues to make waves in the wine world. Recently, it was named one of "The Best 30 White Wines for 2023" by VinePair.
This recognition is the latest accolade to be included in the ever growing list for this delicious white variety. In 2022, the Pinot Grigio was recognized as one of the "Top 13 Pinot Grigios to Drink in 2022", was named as one of the "50 Best Wines of 2022," and was given a 90 point rating by both VinePair and Wine & Spirits Magazine. Good Harbor Vineyards is the only Michigan wine to be included in any of these lists.
Keith Beavers says while good wine is everywhere in the United States, people should stop sleeping on Michigan. "This Pinot Grigio is distinctly a Michigander. It's light and fizzy with great natural acidity. The fruit is calm and tight, bringing some mild depth. It might be one of the most refreshing Pinot Grigios around."
We are excited to see this wine continue to gain national recognition in the years to come. Come in and try this highly recognized wine for yourself! We'd love to tell you more about it!
Comments
Commenting has been turned off.
Recent Posts
September 20, 2023

September 6, 2023

August 31, 2023

August 24, 2023

August 17, 2023

August 16, 2023

July 25, 2023

July 22, 2023

July 4, 2023

July 3, 2023
Blog Categories
Blog Archives