Good Harbor's Pinot Grigio Recognized As One of the Best Wines of 2022 By VinePair
November 18, 2022 | Features, Product Updates, Tasting Room, White Wines | Devon Kessler
Good Harbor's Pinot Grigio Recognized As One of the Best Wines of 2022 By VinePair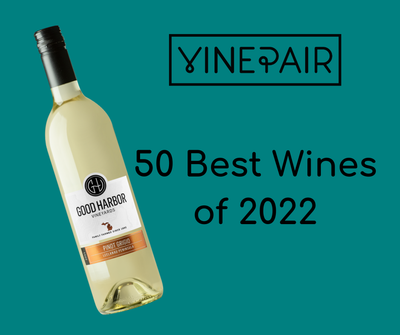 Good Harbor's Pinot Grigio continues to make waves in the wine industry. VinePair recently recognized our 2021 Pinot Grigio as one of "The 50 Best Wines of 2022". The list includes wines from all over the country, including up-and-coming regions like Virginia, New York's Finger Lakes, and Michigan. We are honored to be the only Michigan wine included in the list.
Earlier this year, our Pinot Grigio was recognized as one of "The 13 Best Pinot Grigios for 2022" and received a rating of 90 from VinePair. The wine has been described as "a prime example of the innovation American wine has to offer."
VinePair goes on to say our Michigan-grown product is bursting with notes of beeswax and tropical fruit. Your nose will experience the aromas of kiwi and peaches as they evolve into notes of sweet, overripe orchard fruit on your tongue.
Come into our tasting room and try this delicious white variety for yourself. We would love to pour you a glass and tell you more about it!
Comments
Commenting has been turned off.
Recent Posts
November 18, 2023

November 16, 2023

November 9, 2023

October 31, 2023

October 30, 2023

October 25, 2023

October 19, 2023

October 2, 2023

September 22, 2023

September 20, 2023
Blog Categories
Blog Archives