Good Harbor Receives Recognition From VinePair For Its 2021 Pinot Grigio
July 27, 2022 | Local News, Tasting Room, Vine News | Devon Kessler
Good Harbor Receives Recognition From VinePair For Its 2021 Pinot Grigio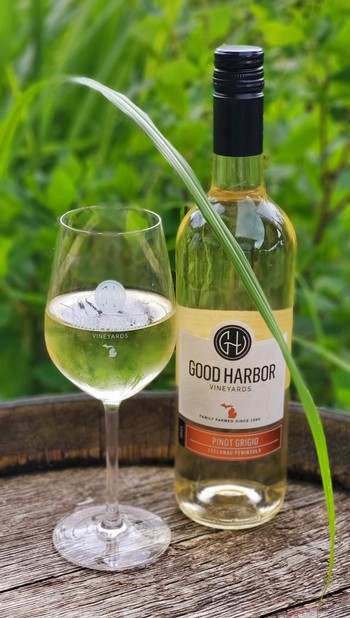 Good Harbor Vineyards wines continue to earn recognition across the country! Recently, our 2021 Pinot Grigio was featured in VinePair's "The 13 Best Pinot Grigios for 2022" and was rated a 90.
VinePair tastings director Keith Beavers explains Pinot Grigio is the second most popular white varietal in the United States. It is named for its grayish-hued skin. In his review of Good Harbor's vintage, Beavers describes it as being "distinctly a Michigander." He goes on to explain that the team at Good Harbor Vineyards listened to our land and continue to make wine that needs to be talked about. Today, Good Harbor has one of the largest plantings of Pinot Grigio in the state of Michigan. The rich, intense fruit flavors in the wine are due to us cropping the fruit at a low tonnage per acre.
Our Pinot Grigio is light and fizzy with a great natural acidity, Beavers goes on to describe. When sipping the 2021 Pinot Grigio, your taste buds experience the rich, creamy texture that is a result of careful vineyard management throughout the growing season. This wine would pair great with light pastas, salads, and light meats.
It isn't just your taste buds that will enjoy this delicious wine variety. Your nose will be overwhelmed with the aromas of ripe pear and lemon rind that come from the first few swirls around the glass. Stick around a little longer and you will be able to pick up hints of the mineral components from the vineyard soil that really help the bottle show the true expression of Pinot Grigio from the Leelanau Peninsula. Beavers finishes his review by saying our Pinot Grigio "might be one of the most refreshing Pinot Grigios around."
Experience the delicious adventure of our 2021 Pinot Grigio for yourself. It is available to purchase in our tasting room seven days a week or on our website 24/7.
Comments
Commenting has been turned off.
Recent Posts
September 20, 2023

September 6, 2023

August 31, 2023

August 24, 2023

August 17, 2023

August 16, 2023

July 25, 2023

July 22, 2023

July 4, 2023

July 3, 2023
Blog Categories
Blog Archives