Coastal Celebration Sparkling Trio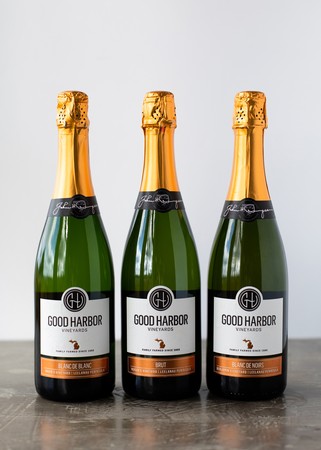 Good Harbor Vineyards Coastal Celebration Sparkling Trio
Save $12 off retail price
Let your palate decide which of these single variety and single vineyard sparkling wines is best. The sparkling assortment includes the following sparkling wines: Blanc de Blanc (100% Chardonnay), Blanc de Noirs (100% Pinot Noir), and Brut (100% Grüner Veltliner) all grown within 2 miles of the Lake Michigan Coast. They are fresh and varietally driven with bright fruit flavors.
Blanc de Blanc - A crisp delicious sparkling wine made from 100% Chardonnay.
Brut - A dry, crisp, refreshing sparkling with a slightly spicy finish produced from 100% Grüner Veltliner.
Blanc de Noirs - A sparkling wine rich with depth and texture made from 100% Pinot Noir.
About Us
Good Harbor Vineyards has been growing grapes and producing award winning wines in Northern Michigan's Leelanau Peninsula since 1980. A family run business and pioneer of the Michigan wine industry, Good Harbor Vineyards was founded on the principle that everyone deserves quality yet affordable wine.
NOTE: Cellar Assortments are ineligible for the club member discount.
Must be purchased online to receive discount