Connoisseur Collection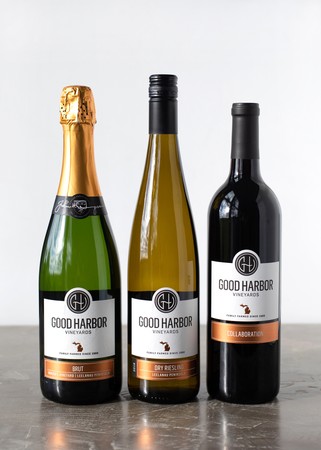 Good Harbor Vineyards Connoisseur Collection
Save $11 off retail price
This trio offer of our small batch wines included one 750ml bottle of Brut (100% Gruner Veltliner), one 750ml bottle of Dry Riesling, and one 750ml bottle of Collaboration (dry red blend of Merlot, Cabernet Sauvignon, and Cabernet Franc).
Brut - A dry, crisp, refreshing sparkling with a slightly spicy finish produced from 100% Gruner Veltliner.
Dry Riesling - The nose of this wine has aromas of white peaches followed by lilies.
Collaboration - A rich, dry, complex wine, with aromas of raspberries and cocoa, Collaboration will warm your soul.
About Us
Good Harbor Vineyards has been growing grapes and producing award winning wines in Northern Michigan's Leelanau Peninsula since 1980. A family run business and pioneer of the Michigan wine industry, Good Harbor Vineyards was founded on the principle that everyone deserves quality yet affordable wine.
NOTE: Cellar Assortments are ineligible for the club member discount.