Classic White Trio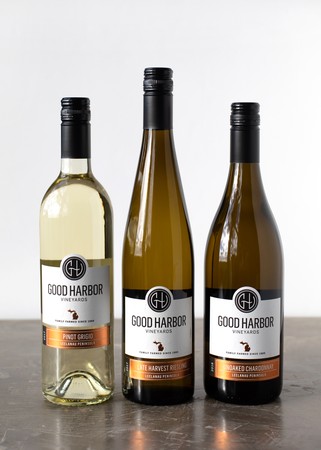 Good Harbor Vineyards Classic White Trio
Save $11 off retail price
Can't decide on which wine is your favorite? No worries. You can get this trio of delicious locally grown and produced white wine collection to enjoy anytime. The trio includes one 750ml bottle of Unoaked Chardonnay, one 750ml bottle of Pinot Grigio, and one 750ml bottle of Late Harvest Riesling. You will have a bottle to share and compliment a wide variety of cuisines.
Pinot Grigio - Vibrant citrus notes on the nose with a delicious zesty palate.
Late Harvest Riesling - Rich aromas of stone fruits with a luscious palate of pineapple.
Unoaked Chardonnay - Clean, Crisp, and with big juicy ripe apple flavors. A Food-Friendly Chardonnay.
About Us
Good Harbor Vineyards has been growing grapes and producing award-winning wines in Northern Michigan's Leelanau Peninsula since 1980. A family-run business and pioneer of the Michigan wine industry, Good Harbor Vineyards was founded on the principle that everyone deserves quality yet affordable wine.
NOTE: Cellar Assortments are ineligible for the club member discount.
Must be purchased online to receive discount