Michigan Wine Fan Favorites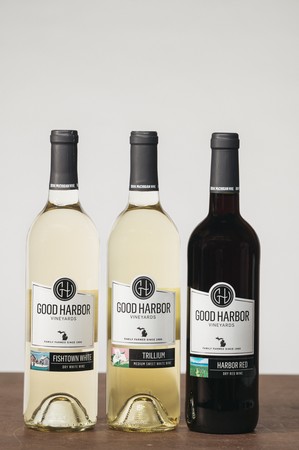 Good Harbor Vineyards Michigan Wine Fan Favorites
Save $11 off retail price
Not certain if you what to expect from wines produced from Northern Michigan? This trio of wines includes a dry white blend, a medium sweet white blend, and a dry red blend that will please the crowds. Fishtown White is a dry blend of Chardonnay, Pinot Grigio, and Riesling. Trillium is a medium-sweet white blend of Riesling and Bianca, and Harbor Red is a dry fruity red blend of Merlot, Marechal Foch, and Leon Millot. They are an excellent collection of affordable wines to enjoy on a weekly basis and share with friends and family.
Fishtown White - Bright apple, pineapple, and floral aromas combine to ignite your senses and entice you to take a sip.
Trillium - Crisp Medium Sweet Riesling blend with aromas of peaches and apricots.
Harbor Red - Soft, fruity, elegant, and smooth. A perfect everyday red table wine.
About Us
Good Harbor Vineyards has been growing grapes and producing award winning wines in Northern Michigan's Leelanau Peninsula since 1980. A family run business and pioneer of the Michigan wine industry, Good Harbor Vineyards was founded on the principle that everyone deserves quality yet affordable wine.
NOTE: Cellar Assortments are ineligible for the club member discount.
Must be purchased online to receive discount