PICK UP - Good Harbor Box of GOODness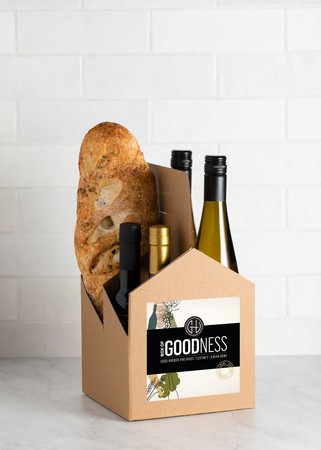 GOOD HARBOR BOX OF GOODNESS (PICK-UP)
WHAT'S INCLUDED?
Enjoy two boxes each month filled with 2 bottles of Good Harbor wine that we've carefully paired with a custom loaf of 9 Bean Rows Artisanal bread and hand selected 200ml bottles of Fustini's Olive Oil and Vinegar. Included in each Box of GOODness is a hand tailored recipe to use the remaining olive oil and vinegar that will also pair with the Good Harbor wine selection included. The Good Harbor Box of GOODness is a way to enjoy some of the best of what Northern Michigan has to offer, packaged together for your convenience.
July 8th - Box of GOODness Pick Up
2 (750ml) bottles of Good Harbor Trillium (Medium Sweet White Blend)
1 Loaf 9 Bean Rows Pan Rustique
1 (200ml) bottle of Chipotle Olive Oil
1 (200ml) bottle of Traverse City Cherry Balsamic Vinegar
1 tailored recipe card complement of Fustini's
July 22nd - Box of GOODness Pick Up
ORDER DEADLINE FOR MAY: June 30, 2021
FINE PRINT
Wine club discounts DO apply to the wine. Box of GOODness food items are not sold separately. Each month's box ships in two separate shipments on the day indicated. Wine substitutions are not allowed due to the careful curated pairing combinations. Must be at least 21 years old to purchase. Picks up will need to occur on the day indicated.
This Product Selection is for Pick Up ONLY of both July Assortments