Sweet Harvest Trio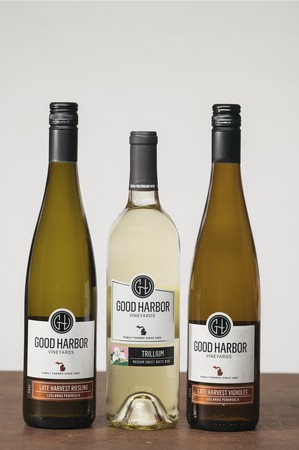 Good Harbor Vineyards Sweet Harvest Trio
Save $8 off retail price
Sweet with fruit aromas of stone fruits such as white peach and apricots with floral undertones, this sweet harvest trio is a guaranteed winner. The collection of sweet wines all have a clean balanced finish making them great to enjoy with or without food. The Sweet Harvest trio includes the following wines: Late Harvest Vignoles, Trillium (Bianca/Riesling), and Late Harvest Riesling. These sweet and fresh wines will win over your friends and company every time.
About Us
Good Harbor Vineyards has been growing grapes and producing award winning wines in Northern Michigan's Leelanau Peninsula since 1980. A family run business and pioneer of the Michigan wine industry, Good Harbor Vineyards was founded on the principle that everyone deserves quality yet affordable wine.
NOTE: Cellar Assortments are ineligible for the club member discount.
Must be purchased online to receive discount