Guide to Pinot Grigio

May 10, 2023 | Taylor Simpson
Guide to Pinot Grigio
Pinot Grigio Tastings in Northern Michigan
Your Guide to Pinot Grigio
If you enjoy a dry wine from time to time, Pinot Grigio is calling your name. This delicious, acidic wine has notes of fruit that contribute to an overall fresh flavor. But those new to the wine world may want to know more than just the Pinot Grigio taste before they purchase their own bottle. At Good Harbor Vineyards, we aim to be known as an expert in winemaking and wine varieties across the world. As such, we're glad to provide our customers with a straightforward guide to one of our favorite wines. Our vineyard, nestled in the heart of beautiful Northern Michigan, is the perfect place to give Pinot Grigio a try.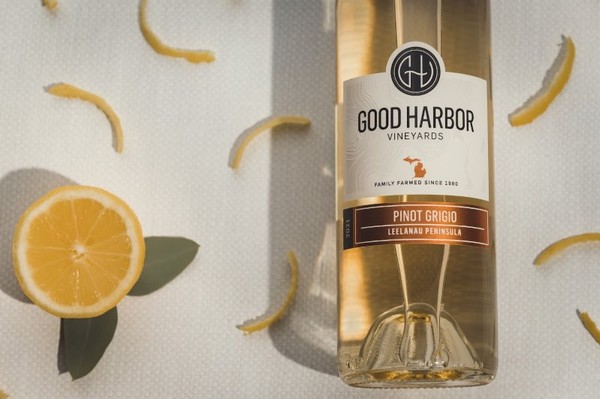 The History of Pinot Grigio
Pinot Grigio grapes were first grown in France during the Middle Ages. The French turned these grayish grapes into their staple wine, Pinot Gris. Over the years, the beverage gained popularity and spread to other parts of Europe, eventually gaining a home in the north of Italy. From there, Pinot Grigio spread even further, making its way to Australia, Argentina, and the fields of Northern Michigan. Today, this wine is enjoyed across the world in several forms: Italian Pinot Grigio, French Pinot Gris, and New World Pinot Grigio.
What Does "Pinot" Mean?
"Pinot" is simply an umbrella term that encompasses several varieties of white grapes. While they're called white grapes, they come in several shades, including the grayish-purple hue common in the grapes used for Pinot Grigio. The word "pinot" itself has roots in the French language, and its final "t" is not pronounced. This wine is commonly misspelled "pino grigio" as a result.
What Does Pinot Grigio Taste Like?
Every Pinot Grigio has its unique flavor. Taste depends on a wide range of factors, from production method to time and location of harvest. But in general, when you open a bottle of Pinot Grigio, you can get ready to enjoy a dry, acidic, fruit-flavored wine with a little zest. While exact tasting notes can vary to more fruits and spices, most Pinot Grigios include these flavors:
Lemons
Lime
Peach
Pear
Green Apple
Honeysuckle
Is Pinot Grigio White Wine?
Yes, Pinot Grigio is a variety of white wine made from grayish-purple grapes native to the Alsace region of France. Today, these grapes aren't exclusive to France and Italy and can be grown in the Pacific Northwest, Australia, and scenic Northern Michigan.
Is Pinot Grigio Sweet?
Pinot Grigio wines aren't typically classified as sweet, but some varieties may have a higher sugar content than others. Wines that contain grapes harvested later in the year may have a bit richer flavor that includes notes of apple and honeysuckle. However, the consensus is that Pinot Grigio has a fresh, zingy flair.
Is Pinot Grigio Dry?
Pinot Grigio is classified as a medium-dry wine, which means there's vey little residual sugar in the wine. Although this wine boasts a fruit flavor, it still tends to have a more acidic quality than sweet wines, such as Rieslings or cherry wines.
What Should I Pair With Pinot Grigio Wine?
When you purchase a bottle of Michigan's Pinot Grigio from our shop, the pairing possibilities are seemingly endless. It's crucial to know which foods and desserts go well with your favorite wines so you can make the most of your bottle. Here are our suggestions for serving with a glass of Pinot Grigio:
Cheeses
A soft, mild cheese makes the perfect pair with Pinot Grigio. While we recommend refraining from choosing sharp or pungent cheeses, the following cheese varieties will meld nicely with the flavors of white wine:
Brie
Mozzarella
Feta
Gouda
Vegetarian Options
If you have a taste for vegetarian dishes, don't be afraid to break out the Pinot Grigio at your next dinner. This wine pairs nicely with bright vegetables and fresh grains. We recommend the following:
Risotto
Pasta with light sauce
Salad greens
Zucchini
Cucumbers
Meats
You'll want to be careful when pairing meat with Pinot Grigio. Stay away from heartier meats, and instead, stick to something light and summery. Our meat and fish favorites include:
Crab
Shrimp
Sushi
Shellfish
Salmon
Chicken
Turkey
Desserts
There's always room for dessert, and you want something that won't clash with a glass of Pinot Grigio wine. Choose something light, maybe with lots of brightly-colored berries. Here are a few of our favorite options:
Crème brulee
Lemon pie
Light cakes or crepes topped with berries
Shop Our Award-Winning Pinot Grigio Today
Get to know Pinot Grigio for yourself at Good Harbor Vineyards. Our Northern Michigan winery is within driving distance of Traverse City and is open for tastings. We welcome guests new and old to stop by and explore our selection in person. If you love what you find, consider joining our wine club and enjoy a discount on several bottles of wine a year, among other benefits. Join today!
Comments
Commenting has been turned off.
Recent Posts
June 5, 2023

May 30, 2023

May 16, 2023

May 10, 2023

May 3, 2023

April 27, 2023

April 24, 2023

April 3, 2023

April 1, 2023

March 31, 2023
Blog Categories
Blog Archives