5 Fun Facts About Pinot Grigio

September 7, 2022 | Tasting Room, White Wines | Taylor Simpson
5 Fun Facts About Pinot Grigio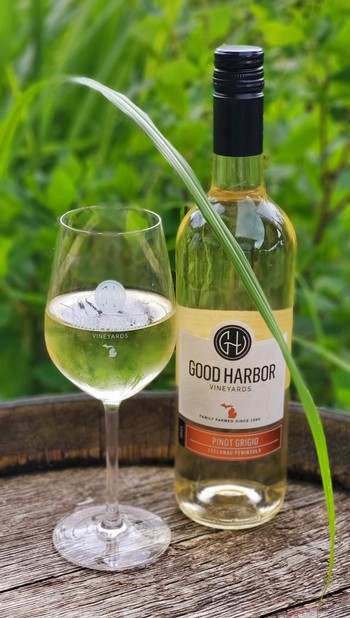 How well do you know Pinot Grigio? As refreshing as lemonade on a hot summer day, this beloved wine is light, bright, and extremely popular. In fact, during the COVID-19 pandemic, when sales of other white wines were in decline, sales of Pinot Grigio went up almost twenty percent in the United States. You've probably tried it, but do you know these five Pinot Grigio facts?
Pinot Gris and Pinot Grigio are made from the same type of grape, and it's not green. The reason they have different names comes down to location! While Pinot Grigio is an Italian wine, Pinot Gris originated in France. Gris and Grigio both mean gray, referring to the color of the grapes, which is a grayish blue.
The flavor of Pinot Grigio depends largely on the region in which it's grown. Italian Pinot Grigio is dry and a little more acidic than California Pinot Grigio, which is lighter bodied and crisp. Oregon produces wines that are fruity and medium-bodied.
Pinot Grigio goes well with a wide variety of meals. A favorite to pair with summer dishes, it tastes amazing with potato salad, pâté, cheeses, chicken tagine, duck, turkey, cheese, Asian dishes, Tex-Mex, risotto, pork, seafood, and much more. Of course, it also tastes perfectly delicious when you sip it all on its own.
Pinot Grigio is best when it's young. It makes it to the market within about 4 to 12 weeks of fermentation and should be opened and consumed without aging. An exception to this rule is Alsatian Pinot Grigio, which can be kept in a wine cellar for 5 to 10 years.
Pinot Grigio has been around for a long time! Pinot Gris was first made in Burgundy and made its way to Switzerland in the 1300s. From there it traveled to Italy, where it became Pinot Grigio and gained tremendous popularity. Once it hit the market in the United States, it quickly became the most in-demand imported white wine throughout the country.
If you're looking for more wine facts or you want to try a new wine or tour a local winery, check out Good Harbor Vineyards. Family owned and operated, Good Harbor Vineyards has been making wine in Northern Michigan for over 40 years. We've got more than 125 acres of prime vineyard land dedicated to producing Riesling, Chardonnay, Pinot Grigio, Gruner Veltliner, and Pinot Noir varietals, along with Merlot, Pinot Blanc, sauvignon Blanc, Zweigelt, Lemberger, and Cabernet Franc. Carefully cultivated, and harvested by our dedicated team, our grapes are then made into the best wine possible, consistently overdelivering for the price.
For more information about our vineyards, the winemaking process, or the Good Harbor Connoisseur Wine Club call 231-256-7165 or come visit us for a tour!
Comments
Commenting has been turned off.
Recent Posts
September 20, 2023

September 6, 2023

August 31, 2023

August 24, 2023

August 17, 2023

August 16, 2023

July 25, 2023

July 22, 2023

July 4, 2023

July 3, 2023
Blog Categories
Blog Archives