Thanksgiving Appetizer: Arugula Pesto Crostini Paired with Pinot Blanc
November 16, 2022 | Wine and Food Pairings | Devon Kessler
Thanksgiving Appetizer: Arugula Pesto Crostini Paired with Pinot Blanc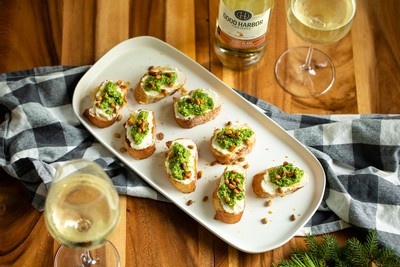 Thanksgiving is fast approaching and that means friends and family will be gathering to eat, drink, and enjoy one another's company. We all know getting the meal ready can take a little bit of time so why not make an appetizer that adds a little pop of color to your table and keep your guests' appetite at bay while waiting for dinner?
Try this Arugula Pesto on Crostini from Good Housekeeping paired with our Pinot Blanc for the perfect addition to your holiday table.
Ingredients
2 c. baby arugula
⅓ c. grated Parmesan
¼ c. pine nuts, toasted
1 tbsp. Lemon juice
1 clove garlic
½ c. extra virgin olive oil
Kosher salt
Directions
In a food processor, pulse arugula, Parmesan, pine nuts, lemon juice, garlic, olive oil and ¼ teaspoon salt until smooth.
Try it on crostini: Spread toasted bread with ricotta; top with pesto pine nuts and lemon zest
Our Pinot Blanc is the perfect wine to pair with this appetizer due to its aromas of pear with hints of lime zest. When enjoying a glass of Pinot Blanc, you will experience bright citrus notes. Experts recommend pairing Pinot Blanc with soft cheeses - like the ricotta in between the pesto and crostini - salads with creamy dressing, and flaky fish. The medium body and perfect level of acidity in this Pinot Blanc make it the ideal wine to pair with a variety of food.
Come into our tasting room to purchase all the wine you will need for your Thanksgiving day gathering!
Comments
Commenting has been turned off.
Recent Posts
September 20, 2023

September 6, 2023

August 31, 2023

August 24, 2023

August 17, 2023

August 16, 2023

July 25, 2023

July 22, 2023

July 4, 2023

July 3, 2023
Blog Categories
Blog Archives