Behind The Vines: The Workers of Harbor Hill Fruit Farms

September 29, 2022 | Features | Taylor Simpson
Behind The Vines: The Workers of Harbor Hill Fruit Farms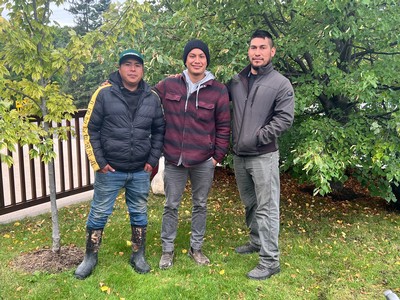 (Pictured from left to right are Javier Caldera Flores, Jorge de Aguillar, and Alberto Orozco Santana)
Most people who experience Good Harbor Vineyards are very familiar with the friendly faces in the tasting room. Rarely do they get to speak with or see the folks who work behind the scenes to bring the product to the shelf. During Hispanic Heritage Month, we want to highlight the men who are the driving force behind our day-to-day farming operations at Harbor Hill Fruit Farms. These talented, hard working folks tirelessly tend to the vineyards in an effort to grow the highest quality fruit.
Currently, Harbor Hill Fruit Farms, the custom services operation under Simpson Family Estates, employs nearly two dozen workers through the federally run H-2A visa program. The program "is a temporary agricultural program that allows agricultural employers, like the farmers in Northern Michigan, who anticipate a shortage of domestic workers to bring nonimmigrant foreign workers to the U.S. to perform agricultural labor or services of a temporary or seasonal nature." This program is run through the U.S. Department of Labor and finds contract workers to work for qualifying farms. It is a highly regulated program that has proven to provide incredible and talented workers to fill the labor needs for farms around the United States and of course, Michigan.
We took some time to sit down with a few of the farm workers to spotlight their personal lives and learn more about where they come from. We were thrilled they agreed to share their stories with us and enjoyed learning more about their traditions and who they are.
Celebrating Independence Day
Hispanic Heritage Month takes place in the United States from September 15th through October 15th each year. It occurs over these dates to recognize the Independence Day during this time in many Latin American countries. Our crew shared with us how they celebrate Mexico's Independence Day, which takes place on September 16th. Like most places in the US, the citizens of Mexico hold special events and celebrations to commemorate the day. All three of the men we spoke with, Alberto, Jorge and Javier, describe it as a fun and exciting time.
With smiles on their faces, the men described going to the center of Mezquital, Mexico with their families to listen to the governor speak about the Independence of Mexico and recognize past Mexican presidents before cheering "¡Viva Mexico!" and ringing the town's bell three times.
The fiesta begins in the evening hours of the 15th. At midnight, fireworks are lit and the town begins to enjoy the holiday with food, music, and families spending time together in the town square. On the 16th, the whole town gathers for a morning parade that includes the Mexican Army, Police, Firemen, and other traditional floats.
Time at Home
Following the completion of grape harvest, the Harbor Hill crew all head back to be with their families for just over three months in the state of Durango, Mexico. They each have their own way of making this limited amount of time special with their friends and family.
Alberto shared with us that when he returns home to Durango, his family has a big cookout with a pig and lamb to celebrate. Every Saturday, there is either a basketball, volleyball or Rodeo Colledura event happening for the family to enjoy together. He also let us know that he is a rather decorated Rodeo rider and has won many competitions! When he isn't participating in a sporting event, Alberto enjoys going to his ranch and spending time with his cattle. "It seems like you are home for a week or less because the time flies so fast," explained Alberto.
His family also sets a date to go and visit the cemetery together to celebrate the traditional Dia De Los Muertos (Day Of The Dead) holiday on November 2nd. He typically misses the celebration due to the timing of harvest, but they make an effort to go and celebrate the family members that have passed over time.
In Durango, Javier lives on a ranch and enjoys riding his horses in the wooded areas. According to Javier, the surrounding area of Mezquital is very dry and has many forrested areas with a lot of pine trees and a few large rivers. Sometimes, he and his family will drive to the city - which is three hours away from his ranch. Javier is the godfather to Alberto's daughter, so every year in February, the two families get together and have a party. (Many of the guys live fairly close to each other and are able to spend some time with one another's families.)
Jorge shared that his house is located in the city. He spends much of his time playing sports, attending concerts playing music, and visiting with family. His favorite weekly activity when he returns to Durango is spending time next to a river with his family on the weekends. They grill, enjoy the weather, and most of all he relishes time with his parents and siblings.
Background in Farming
Corn and beans are the most popular crops grown around Durango, Mexico. Growing up, both Alberto and Javier farmed corn. Javier also farmed beans, but most of the crops were grown to support the family. Many families grow crops for personal use and less for sale at a market. Farm work is part of everyday life for many people in the Durango area.
As a city-boy, Jorge told us his experience in farming was limited to the time he would visit his grandparents to help plant crops when not in school. One of his responsibilities on his grandparents' farm was plowing the corn fields with an ox!
We inquired about their experiences with farming grapes in Northern Michigan versus their previous experience with corn in Mexico. Overall, Alberto, Javier, and Jorge all agreed they very much enjoy the work of grape farming. While they didn't feel the work is harder, the cold temperatures can make the job difficult.
Most of the workers have been coming back to help in the vineyards year after year. They admitted when they first started, they had to learn a lot when it came to growing grapes. It was hard for them to imagine how grapes grew as they had never seen them come to fruition. But by the end of the first year, they understood and very much appreciated the different stages of the process. The one job they indicated was their least favorite task is trunk cleaning, which requires a lot of bending over to tend to the trunk of every vine.
"The language made it more difficult to work with grapes," said Jorge. " The farming wasn't difficult, just the language barrier. Thanks to Jason, our farm manager, we were able to learn quickly." There were many new and foreign farming concepts that had to be explained. By the second year when the crew came back, they worked the vineyards like seasoned pros.
Benefits
We were curious how the H-2A program has affected the workers for better or worse. What we found was that the H-2A program has allowed the men to find more sustainable work to support their families in Durango. Being with Harbor Hill has allowed most of the men to build their own homes and provide financial stability for their families. Javier has been able to buy cattle, giving him the ability to generate more income throughout the year as needed.
When asked what is the most difficult thing about being in the program, all three men had the same response: being away from their families. These men arrive in March to begin pruning 300 acres of grapes. They spend the next nine months working the vineyards and tending to the vines until they harvest the last of the fruit in early November. They all agreed being away from their families for so long and missing family events is hard, but that it is worth it based on what the program has allowed them to provide for their families. They also said it's quite difficult to find a good paying job in Mexico, and that even better jobs still do not afford an individual to get ahead. Before working in the H-2A program, they were living paycheck to paycheck at best.
It isn't just the individual families that have benefited from the workers in the H-2A program, but their communities have as well. Many of the H-2A participants saved their earnings and opened businesses back home. From welding businesses to gas stations to mechanic shops, workers have opened a variety of businesses that help the members in the community with services that, prior to a few years ago, could only be found in Mezquital, Durango, which required much more travel and expense. Another growing business created is lumber. With the progress and addition of new homes, H2A workers have opened lumber warehouses to service the growing demand of new home construction in the community.
Simpson Family Estates, the parent company of Good Harbor Vineyards, Harbor Hill Fruit Farms, and Aurora Cellars, values the sacrifice these gentlemen have made to be in Northern Michigan to work with us. Their invaluable contributions are recognized day after day and never taken for granted. We are a company that values family, hard work, and respect for others. We thank these gentlemen for sharing their stories and personal experiences to allow us to help people learn a little bit more about them and recognize their immense contribution to the wine industry.
Comments
Commenting has been turned off.
Recent Posts
September 20, 2023

September 6, 2023

August 31, 2023

August 24, 2023

August 17, 2023

August 16, 2023

July 25, 2023

July 22, 2023

July 4, 2023

July 3, 2023
Blog Categories
Blog Archives