Creamy Kale and Gnocchi Bake Paired with Tribute Chardonnay
October 26, 2022 | Features, Wine and Food Pairings | Devon Kessler
Creamy Kale and Gnocchi Bake Paired with Tribute Chardonnay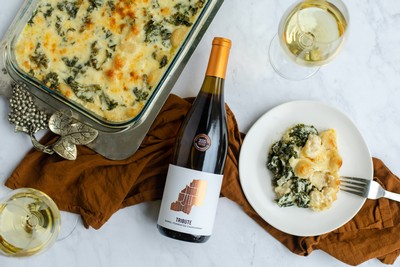 When you think of the fall and cold weather, you may think of hot chocolate, cozying up under a blanket, or sitting by the fire. Cold weather is also the perfect time to turn on your oven and make a delicious pasta bake! We found this delicious Creamy Kale and Gnocchi Bake recipe from Delish pairs well with a glass of our Tribute Chardonnay.
Creamy Kale and Gnocchi Bake
By: Delish
Ingredients
2 tbsp. Extra virgin olive oil
2 (10 oz) bunches of kale, stems removed and leaves torn (about 24 packed cups total)
Kosher salt
3 tbsp. Unsalted butter
2 large shallots, finely chopped
3 cloves garlic, finely chopped
3 tbsp. All-purpose flour
4 c. whole milk
2 tsp. Dijon mustard
Pinch of ground nutmeg
Freshly ground black pepper
1 (16 oz) package of potato gnocchi
8 oz Monterey Jack cheese, shredded (about 2 cups), divided
1 oz parmesan, finely grated (about ¼ cup)
Directions
Preheat the oven to 375°. In a large pot over medium-high heat, heat oil. Add kale, a large handful at a time, tossing with tongs and slightly wilting each batch before adding the next. Continue this until all kale is added and leaves are bright green and just wilted, about 5 minutes total. Season kale with ½ teaspoon salt and transfer into an 11"-by-8" (2-quart) baking dish.
In the same pot over medium heat, melt butter. Cool shallots and garlic, stirring often, until tender and light golden, 3 to 5 minutes. Add flour and cook, stirring, until lightly toasted, about one minute more.
While whisking, slowly pour in milk until combined and smooth. Whisk in mustard, nutmeg, ¾ teaspoon salt, and ¼ teaspoon pepper. Stir in gnocchi. Bring mixture to a simmer over medium heat, stirring occasionally, and cook until thickened slightly, about one minute.
Remove pot from heat and whisk in one cup of Monterey Jack cheese until melted. Return cooked kale to pot and toss to combine, then scrape kale mixture into baking dish. Top with Parmesan and remaining one cup Monterey Jack cheese.
Bake until the filling is bubbling and the top is golden, 16 to 20 minutes. Let cool for 10 minutes before serving.
The creamy textures and savory flavors of this dish are a wonderful pairing with a richer style Chardonnay. Barrel fermented Chardonnay tends to be richer, which is why we selected the Tribute to accompany this dish. Experts recommended pairing oaked Chardonnay with seafood and pork tenderloin. If you're a vegetarian or want to enjoy a meal that doesn't include meat, you can lean toward rich or starchy vegetables - like kale in the Creamy Kale & Gnocchi Bake.
Comments
Commenting has been turned off.
Recent Posts
September 20, 2023

September 6, 2023

August 31, 2023

August 24, 2023

August 17, 2023

August 16, 2023

July 25, 2023

July 22, 2023

July 4, 2023

July 3, 2023
Blog Categories
Blog Archives