Dryland Farming vs. Irrigation
April 27, 2023 | Features, Vine News | Devon Kessler
Dryland Farming vs. Irrigation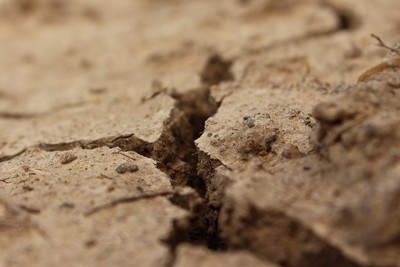 When it comes to farming, there are different methods you can choose to produce a high quality crop. In this blog, we will take a look at two different methods concerning water - dryland farming and irrigation - and why Good Harbor Vineyards practices our preferred method.
With more than 40 years of farming experience on the Leelanau Peninsula, the Simpson Family has consistently chosen dryland farming over irrigation. Dryland farming is the method of farming in semiarid areas without the aid of irrigation. Using drought-resistant crops helps to conserve moisture.
You might be wondering, "Does Michigan get enough rain to make this method beneficial?" Simpson Family Estate President, Sam Simpson, explains that our area tends to receive enough rain that the basic needs of the grape vines are met. During the first three years of the vine's life, we tend to pay a little more attention so their root system doesn't spread beyond the topsoil layer to find cooler and more consistently moist soil.
"Because we believe dryland farming produces more truly expressive wines from the season, we mitigate the risk by applying heavy cover crops and increasing the soil moisture holding capacity by increasing the compost inputs as well as organic matter," says Simpson.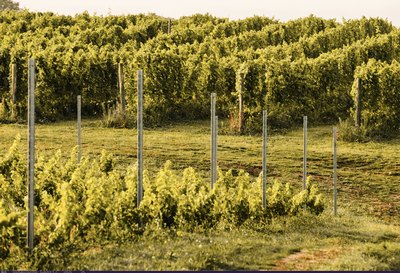 While each method of farming has its benefits, that doesn't mean they are ideal for every grower or every growing region.
There are different categories of irrigation farming - Overhead Sprinkler Irrigation, Drip Irrigation, Furrow Irrigation, and Micro-Sprinkler Irrigation. According to the Grape Grower's Handbook, irrigation systems should encourage vine growth while minimizing soil erosion, and water loss. Using irrigation allows for a consistent flow of water being given to the vines during the first three years of its life when it is the most vulnerable.
Dryland farming has been in practice for hundreds of years. The method is widely used in the Mediterranean region for crops like olives and grapes, according to the California Ag Water Stewardship Initiative. In a variety of grape growing regions within France with much more regulation, it is illegal to irrigate wine grapes during the growing season. It is believed that extra water would dilute the quality of the grapes.
Unfortunately, dryland farming is a harsher growing method on the plants. Because dryland farming relies on the amount of rainfall in the area, it is more difficult to raise younger vineyards and a dry establishment year (the first 1-3 years after planting) can push back the first fruitful year of the vine. It also decreases the lifespan of the plants and is harder on older plants.
Using the dryland farming method in our vineyards doesn't affect the spray practices we use in our vineyards. Simpson explains that we use foliar fertilizers so we can avoid any nitrogen getting into the soil at a higher rate. The nitrogen rate can dramatically affect the crop in a variety of ways and managing levels is critical to the health of the vines. According to Lodi Wine Growers, if a vine contains too little nitrogen, the photosynthesis is depressed, its growth is inhibited, and their foliage appears pale or yellowed. Now, if it has too much nitrogen, the growth is rapid, canopy development becomes excessive and the foliage is dark green. In the vineyards, grapevines have access to native soil nitrogen but only after microbes convert it from organic to mineral forms.
Environmental Impact
Dryland farming not only saves money but it also has positive impacts on the environment. This method of farming not only uses less water but it also uses less energy overall. When irrigation is used, energy is used to set up, manage, and sometimes repair irrigation equipment. Irrigation also requires transporting and pumping of water.
When it comes to dryland farming, growers have to be concerned about the quality of the soil. The practice of dryland farming doesn't require the use of herbicides and very little weeding is ever required due to the dry top layer of soil, or dust mulch, which is designed to trap moisture and isn't conducive for weed growth.
Dryland farming encourages the grapes to let their roots deep down into the ground. This allows for stronger vines that are able to withstand drought and other adverse weather during the growing season. With the roots growing deeper, more minerals and vitamins from the soil are able to be absorbed. The starvation of the grapes forces the juice to have a high concentration of vitamins, nutrients, and minerals which we believe creates a higher quality wine all around.
Comments
Recent Posts
November 18, 2023

November 16, 2023

November 9, 2023

October 31, 2023

October 30, 2023

October 25, 2023

October 19, 2023

October 2, 2023

September 22, 2023

September 20, 2023
Blog Categories
Blog Archives