Fire and Vines: Unveiling the Art of Pairing Wine with BBQ Delights
July 3, 2023 | Features, Tasting Room, Wine and Food Pairings | Devon Kessler
Fire and Vines: Unveiling the Art of Pairing Wine with BBQ Delights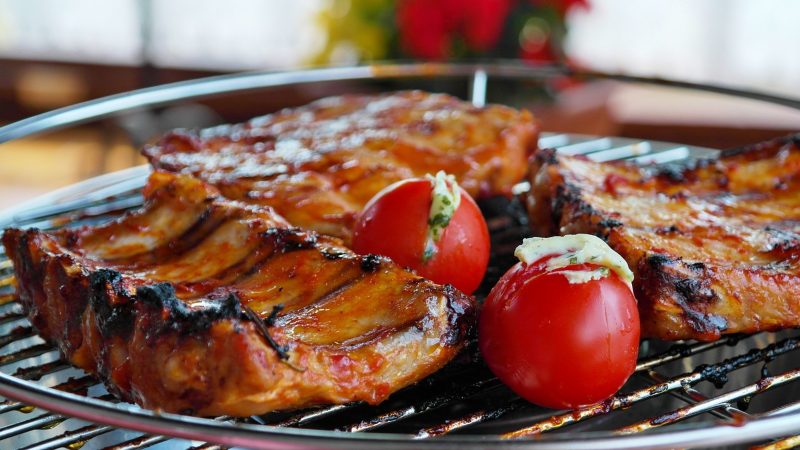 Welcome to a tantalizing journey where culinary artistry meets oenophilic indulgence. As the scents of sizzling meats and smoldering coals waft through the summer air, we embark on a quest to uncover the harmonious marriage between wine and barbecue. Join us as we unlock the secrets of pairing wines that elevate the smoky symphony of flavors, adding a touch of elegance to the rugged charm of barbecue gatherings. Whether you're grilling succulent ribs, charring juicy burgers, or slow-cooking tender brisket, prepare to tantalize your taste buds and discover the perfect wine companions for your barbecue adventures.
Before we can get into the fun stuff - the wine, of course - we need to talk a little about the difference between barbecue and grilling. And yes, while the two are used interchangeably often, there really is a difference. VinePair describes barbecue being the practice of using fire to create enough smoke to cook meat slowly on low heat for hours to achieve a certain texture and flavor. Grilling is when direct heat is used to cook the food faster. While both methods cook food, they both lend distinctly different flavors to whatever you are making.
The finished product of both methods is delicious foods that pair wonderfully with wine. The key to pairing them together. Finding a wine that compliments the chosen smoke, sauce, and seasonings. This is the time for you to throw out the wine pairing rules and have fun!
To truly understand barbecue, you need to learn the differences in regional styles and find the wines that work for them. The four main types of barbecue are Texas, Memphis, Kansas City, and Carolina. And each one brings different flavors that pair differently.
According to VinePair, wines that pair well with barbecue are diverse. If you have a sparkling wine, the flavor of the char and smoke of Carolina and Kansas City barbecue will be brought out. Dry and fruit-forward wines, like Shiraz, Zinfandel, and sometimes Pinot Noir, bring out the sweetness of Texas and Memphis dry rubs and balance the salt in them. You won't go wrong with pairing acidic and citrus-forward wines with any barbecue sauce - even Carolina's vinegar-based ones.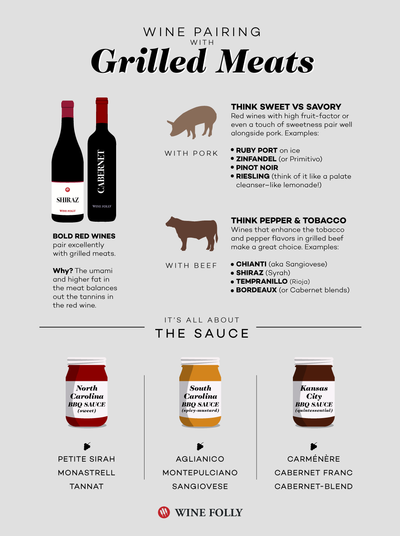 Meat and Wine Pairings
Whether you're barbecuing or grilling, there's a good chance that the protein is meat (meat is anything other than poultry and fish). When pairing wine with barbecue-grilled meats, you generally want to try and go for a red wine. Red wine is the top choice for meat because the umami and high fat in the meat will balance out the tannin in the wine.
Barbecued pork is often seasoned with sweet, spicy, smoky, and tangy flavors and matching sauces. If you're going the pork route, the wine can be used to balance the smoke and spice of your grilled pork with something fruity that has similar smoky-spicy flavors. One example is Zinfandel. This wine variety is medium- to full-bodied and has plenty of backbone. But, you could go another route as well. If you have slow smoked pork, a glass of Pinot Noir, or even a nice, dry Riesling, will do the trick!
If you're more of a red meat - like burgers or steak - kind of person, full-bodied options like Blaufränkisch, Cabernet-blend, Sangiovese, or even a good Grenache-Syrah-Mourvèdre blend are perfect companions. These varieties enhance the peppery and tobacco flavors in the dish.

Chicken and Wine Pairings
If you are someone who prefers a light fare, like a simple grilled chicken
breast or fish, a white wine or rosé would be the way you would want to go with your pairing. Grilled chicken and fish pair beautifully with Tocai Friulano or even Pinot Grigio, due to the citrusy and "light" finish or the wines. But, if the recipe is simple enough, chicken (and fish) pair well with a good unoaked Chardonnay or lightly oaked Chardonnay.
If you're a true "bbqer" and make your chicken with the sticky sauce and grill marks, you will want to lean towards a sweeter, more intense Gewürztraminer. This wine will also go well if grilled wings with blue cheese are on the menu. The sweetness of the wine will cut the spice of the wings and the stink of the blue cheese to create a glorious combination of aromas and flavor on your palate. If you want to further quench the spicy foods, make sure to serve the Gewürztraminer cold.
Taking the simple route of just salt and pepper, maybe some tomatoes or lime and cilantro for fish tacos? Play off of the citrus and minerality in a chilled Sauvignon Blanc, Albariño, or Grüner Veltliner.
Pairing wine with BBQ is a delightful journey that enhances the overall dining experience. The smoky flavors and succulent meats of BBQ fare present an opportunity to explore the vast world of wine and discover captivating flavor combinations. From the robust reds that complement the rich, charred meats to the crisp whites that cut through the tangy barbecue sauces, there is a perfect wine waiting at Good Harbor Vineyards!
Comments
Commenting has been turned off.
Recent Posts
September 20, 2023

September 6, 2023

August 31, 2023

August 24, 2023

August 17, 2023

August 16, 2023

July 25, 2023

July 22, 2023

July 4, 2023

July 3, 2023
Blog Categories
Blog Archives