From Friuli to Your Glass: Celebrating the Unique Charm of Tocai Friulano Wine
June 17, 2023 | Club, Product Updates, Tasting Room, White Wines | Devon Kessler
From Friuli to Your Glass: Celebrating the Unique Charm of Tocai Friulano Wine
Welcome to the captivating world of Tocai Friulano (free-yu-lawn-oh), an exquisite white wine hailing from northeastern Italy. Renowned for its distinct character and rich heritage, Tocai Friulano has been captivating wine enthusiasts with its delicate aromas, vibrant flavors, and remarkable versatility. Join us on a delightful journey as we delve into the history, characteristics, and cultural significance of this remarkable wine, and discover why it has become a beloved treasure both locally and internationally.
Where It Is Found
Tocai Friulano is a synonym for the white grape variety Sauvignonasse. Sauvignonasse, itself sometimes known as Sauvignon Vert, is a relative of Sauvignon Blanc. The wine known today as Friulano is native to Friuli-Venezia Giulia, Italy's northeastern most wine region. Under the current name, the Sauvignonasse grape has been cultivated in the area since the 1600s.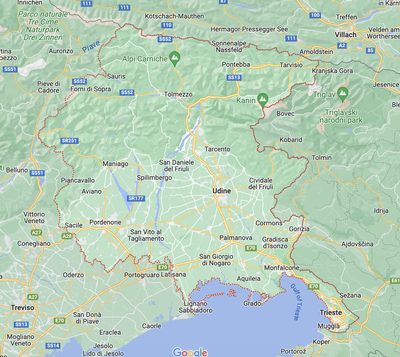 Friuli Venezie Giulia is one of Italy's coldest regions. Typically, January is the coldest month for this region with a maximum daytime temperature reaching 8 degrees Celsius (46 degrees Fahrenheit). During the months of May and September, the area is likely to experience pleasant average temperatures fall between 68 degrees Fahrenheit and 77 degrees Fahrenheit. The warmest months are July and August, according to weather experts.
Plantings of this grape variety can also be found in Lombardy at the southern end of Lake Garda. There are also plantings in many other parts of Italy. Of the country's 7,150 acres of Friulano plantings, about 55% is planted in Friuli.
Outside of Italy, the grape that was once known as Tocai Friulano is grown in Slovenia and Chile. According to Wine Enthusiast, the grape is now known as Zeleni Sauvignon or Jakot in Slovenia. Goriška, which borders Italy, is the key growing region for this grape variety in the European country
The Sauvignonassee grape was long mistaken for Sauvignon Blanc in Chile. Once the difference was discovered, many growers uprooted their Sauvignonassee plantings in favor of the more commercially appealing Sauvignon Blanc.
Neighboring Argentina also cultivates some Sauvignonasse, and it is a classic though very scarce Bordeaux grape variety.
The Leelanau Peninsula is a perfect place for this grape variety to grow because of the cold temperatures we experience in the winter months. Since Lake Michigan doesn't completely freeze, it acts as a moderating influence for the surrounding temperatures and creates an ideal macro-climate. Grapes grown near the second-largest Great Lake are typically susceptible to large amounts of snow cover which provides a protective insulating cover for the vines through the winter and into early spring. This allows farmers to grow and produce more sensitive and hard to grow varieties such as Pinot Noir and Sauvignon Blanc (a relative to Friulano).
History
Some authorities believe the Friulano grape originated in the Veneto region, before spreading to other regions, specifically Friuli, where it is thought to have been grown since around 1600.
According to historians, mentions of wines including "Tocai" in Friuli date back hundreds of years, but it is not clear exactly what grape variety it refers to. It is thought that the first definite mention of Tocai Friulano wine made from Sauvignon Vert/Friulano is only thought to date from 1932.
Starting in the 1990s, Friulano and other grape varieties were involved in a legal struggle over the use of the name "Tokay" and its various permutations, explains Wine Searcher. The European Court ruled in 1995 that "Tokay" should only be used to describe the wines of Tokaj in eastern Hungary. Growers in Alsace were also impacted by the ruling when it came to Pinot Gris was formerly labeled Tokay Pinot Gris.
Characteristics
In the vineyard, the leaves and berry clusters of both the Friulano and Sauvignon Blanc are very similar. While growing, Friulano ripens early and buds late. The fruit is productive to the point that yields must be monitored to maintain quality. Due to its thin skins, the fruit is susceptible to various forms of rot and mildew, although it is often picked early enough in the season to avoid danger.
Friulano wine itself can be made in a variety of styles. The wine is typically pale in color and offers intense floral aromatics. This white wine variety is usually light in body and has a distinctive green-almond character. While most wines are better with age, Friulano is not intended to age before you enjoy it.
The grape has simply been known as Friulano in Friuli and elsewhere in Italy since 2007. In Slovenia, the name was first changed to Sauvignonasse or Zeleni (Green Sauvignon before officially being changed to Jakot in 2013.
Food Pairings
Friulano wines pair well with pan-fried white fish with lemon butter and capers or even nice roast chicken with thyme stuffing. As far as pairing it with a side dish, you can't go wrong with a salad or roasted green vegetables.
Wine Folly describes Friulano being one of the few wines that can stand up to challenging pairings like green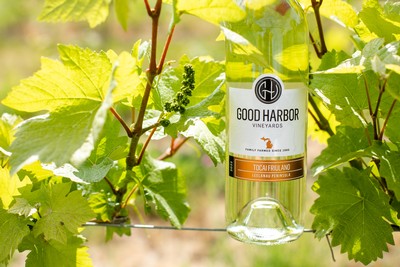 beans, artichokes, cabbage, and Brussel sprouts.
This season, Good Harbor Vineyards is offering this delicious variety to our patrons. The fruit for our vintage was produced from a vineyard that our vineyard crew manages throughout the season. The 2022 Tocai Friulano is a Wine Club Exclusive offering. So if you like Sauvignon Blanc, and you don't want to miss your chance to get your hands on a bottle, sign up for our Connoisseur Wine Club for free either online or in our tasting room.
Comments
Recent Posts
September 20, 2023

September 6, 2023

August 31, 2023

August 24, 2023

August 17, 2023

August 16, 2023

July 25, 2023

July 22, 2023

July 4, 2023

July 3, 2023
Blog Categories
Blog Archives