Get To Know The Grape Variety Albariño
May 16, 2023 | Club, Features, Tasting Room, White Wines | Devon Kessler
Get To Know The Grape Variety Albariño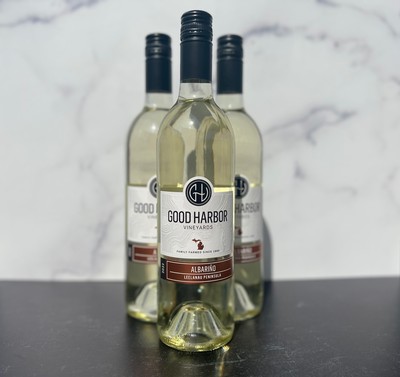 Good Harbor Vineyards is excited to release the new vintage of our popular Albariño in our tasting room this season!
The grape variety Albariño is native to the area in the northwestern corner of the Iberian Peninsula. In Spain, this grape variety makes up more than 90 percent of the grapes that are planted in the Rías Baixas area.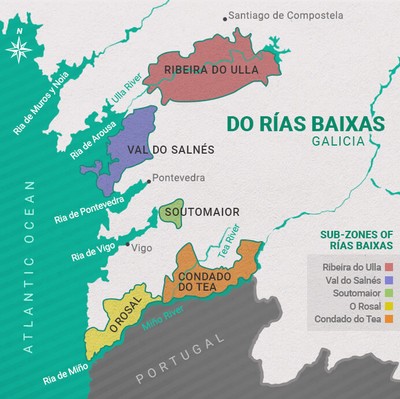 (A map of the Rías Baixas area in Spain in which Albariño natively grows. Courtesy of riasbaixaswines.com)
Due to its high quality, ability to cope with maritime macro-climates, and an increased interest in Spanish grape varieties, Albariño has started to find a home in various other parts of the world - including right here in Northern Michigan. In addition to Northern Michigan, you can find the grape variety growing in parts of Oregon and Washington as well.
The region in Spain that Albariño grows is much cooler and rainier than the rest of the country. The region, Rias Baixas, is along the coast and the vineyards that are closer to the sea are known to have the most salinity and highest minerality. The soil in this area is thought to be the most ideal type of soil for this grape to grow due to its high prevalence of deep, sandy granite.
If you go to warmer regions that have more clay, Albariño wines have a riper fruit characteristic and less acidity. When it comes to cooler regions that have sandier soils, the wine will develop more citrus fruit characteristics and more acidity.
On the Leelanau Peninsula, a vast majority of our vineyards are located within a five mile radius of Lake Michigan and all within the regionally distinctive Good Harbor basin. The specific vineyard in which our Albariño grows is planted less than a mile from Good Harbor Bay and about 800 feet above sea level.
Due to the fact that the lake doesn't freeze entirely during the winter, it acts as a moderating influence for surrounding temperatures creating an ideal macro-climate, like the Spanish regions it natively grows.
Tasting Notes
When enjoying a glass of Albariño, here are a few tasting notes that you might experience.
Your nose can expect aromas of nectarine, lime, and grapefruit while also tasting subtle hints of honeysuckle and beeswax. The 2022 Good Harbor Albariño is bursting with aromas of lemon and grapefruit.
Depending on where the Albariño you're enjoying was produced, your tastebuds will enjoy a weighty mid-palate and mouth-watering acidity that finishes with salinity and sometimes a subtle bitter note. At Good Harbor Vineyards, our team has produced an Albariño with a crisp and balanced acidity that allows it to be enjoyed with or without food.
Experts explain that most Albariño is consumed young and fresh, but due to its high acidity and phenolic structure, there is incredible potential for it to age well.
How to Serve Albariño
It is recommended to serve Albariño cold in a white wine glass. If you're afraid that it won't be as delicious when it warms up, don't be! Experts recommend letting it warm up because it changes dramatically from more minerally, beeswax, and citrus flavors to richer apricot, pear, and apple-like notes.
Food Pairings
Due to its high acidity and slight bitterness, Albariño makes an excellent food pairing wine. This also allows it to act as a palate-cleanser to a wide variety of food textures.
Generally, Albariño is served with light to middle intensity foods - like white meats and light-colored sauces - and with dishes that feature citrus and/or aromatic herbs. If you like to explore different foods while wine tasting, try Vietnamese, Thai, modern fresh Californian, California-style sushi, and Caribbean seafood with the Albariño.
Below are some food pairings for Albariño from Wine Folly:
Meat and Protein
Shrimp, Scallops, Sea Bass, Halibut, Sole, Tilapia, Octopus, Crab, Trout, Chicken, Tofu, Tofu Skin
Cheese
Chèvre, Feta, Cotija, Cream Cheese, Monterey Jack, Provolone, Swiss, Gruyere, and Softer Brie-Style Cheeses
Herb/Spice
Thai Basil, Cilantro, Mint, Shiso, Lemon, Lime, Orange, Tarragon, Chive, Green Onion, Shallot, Ginger, Galangal, Cayenne Pepper, Turmeric, Saffron, Coriander, Cumin, Sesame Seed, Poppyseed, Fennel, Nutmeg, Ajwain, Amchoor
Vegetable
Carrot, Jicama, Cucumber, Avocado, Butter Lettuce, Endive, Bok Choy, Celery, Onion, Cabbage, Cauliflower, Cactus, Yellow Plum, Orange, Grapefruit, Taro Root, Sweet Potato, Yam, Oyster Mushroom
Stop into our tasting room and try our 2022 Albariño for yourself! Good Harbor Vineyards is one of only two wineries in the State of Michigan that has this variety available and the only winery in Northern Michigan that has it.
At Good Harbor Vineyards, this wine is only available to our Connoisseur Wine Club Members. If you would like to purchase a bottle - or two - join our wine club for free!
Comments
Recent Posts
November 18, 2023

November 16, 2023

November 9, 2023

October 31, 2023

October 30, 2023

October 25, 2023

October 19, 2023

October 2, 2023

September 22, 2023

September 20, 2023
Blog Categories
Blog Archives