Easter Recipe & Wine Pairing

April 1, 2022 | Wine and Food Pairings | Taylor Simpson
Easter Recipe & Wine Pairing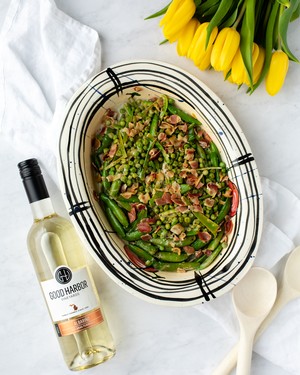 Depending on what protein you are serving, it can be hard to find the perfect side dish to go with it. These Creamy Spring Peas with Pancetta from the Food Network Kitchen paired with our 2021 Albariño are sure to compliment any main dish and definitely add a little color and warmth to your table this Easter!
Creamy Spring Peas with Pancetta
By: Food Network Kitchen
Ingredients
Kosher salt
2 cups shelled fresh English peas or thawed frozen peas (about 10 ounces)
1 pound sugar snap peas, trimmed
¼ pound snow peas, trimmed and thinly sliced
4 ounces pancetta, chopped
2 tablespoons all-purpose flour
1 ½ cup low-sodium chicken broth
½ cup heavy cream
Juice of 1 lemon
Freshly ground pepper
Directions
Bring a large pot of salted water to a boil over high heat. Fill a large bowl with ice water. If using fresh English peas, add to the boiling water and cook until tender, about one minute. Add the snap peas and cook until bright green, about two minutes, then add the snow peas and cook for 30 seconds. Drain the peas and plunge into the ice water to cool.
Cook the pancetta in a large skillet over medium heat until crisp, 8 to 10 minutes. Transfer to a paper towel-lined plate with a slotted spoon. Add the flour to the drippings in the skillet and cook, whisking, until toasted, about one minute. Whisk in the chicken broth and cream and cook until reduced by one-third, about six minutes.
Drain the peas, shaking off the excess water, then add to the skiller (if using frozen peas, add them here.) Cook, stirring, until heated through, three to five minute. Stir in the lemon juice and season with salt and pepper. Transfer to a serving bowl and top with the pancetta.
Note: This recipe yields about 6 to 8 servings.
Our 2021 Albariño pairs well with this dish due to its aromas of lemon and grapefruit. Its balanced acid makes it the perfect wine to consume whether you just want to unwind at the end of the day or enjoy it with a meal. So no matter the protein you are having with the Creamy Spring Peas with Pancetta this holiday, your tastebuds will not be disappointed.
Come into our tasting room to grab a bottle of Albariño - and any others you may need for your celebrations. It is open Thursday-Monday from 12 p.m. to 5 p.m.
Comments
Commenting has been turned off.
Recent Posts
November 18, 2023

November 16, 2023

November 9, 2023

October 31, 2023

October 30, 2023

October 25, 2023

October 19, 2023

October 2, 2023

September 22, 2023

September 20, 2023
Blog Categories
Blog Archives