Good Harbor Vineyards Brings Home Big Awards From 2022 TEXSOM International Wine Competition
July 19, 2022 | Tasting Room, Vine News | Devon Kessler
Good Harbor Vineyards Brings Home Big Awards From 2022 TEXSOM International Wine Competition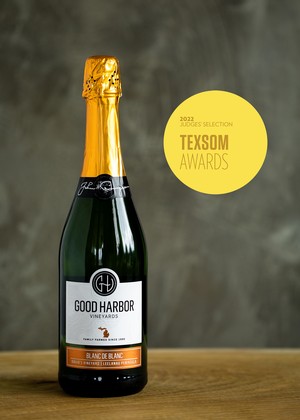 Good Harbor Vineyards is bringing new hardware home to Leelanau County after competing in one of the nation's biggest wine competitions. 14 Traverse City area wineries, including three winning Judges' Selection Award, won 57 awards during the 2022 TEXSOM International Wine Competition.
Due to COVID, TEXSOM did take a hiatus in 2020 but came roaring back in 2021. During this year's competition, TEXSOM received more than 2,000 entries from 24 countries including France, Italy, and Argentina.
During the competition, less than five percent of the entered wines received the highest Judge's Selection award. Among those that received the Judge's Selection award was Good Harbor Vineyards' Blanc de Blanc from our John W. Simpson Sparkling Wine Series. Good Harbor Vineyards also brought home six silver medals and three bronze medals.
Our Blanc de Blanc is produced using 100% Chardonnay and the Charmat Method. This helps keep the fruit flavors found in Chardonnay up front and present. When drinking this delicious bubbly, you are welcomed by a rich and bright scent of apples with a trace of lemon zest. After a short time, the aromas of apricots will fill the glass and your senses. Due to its extra-dry style, the Blanc de Blanc has the perfect level of sweetness that allows you to drink it along or pair it with a variety of cuisine.
Six other Good Harbor Vineyards wines also brought home silver medals during the competition. Those wines include our Zweigelt, Brut, Late Harvest Riesling, Albariño, Pinot Grigio, and Pinot Noir Zweigelt.
Comments
Commenting has been turned off.
Recent Posts
September 20, 2023

September 6, 2023

August 31, 2023

August 24, 2023

August 17, 2023

August 16, 2023

July 25, 2023

July 22, 2023

July 4, 2023

July 3, 2023
Blog Categories
Blog Archives