Good Harbor Vineyards Brings Home Top Awards

June 15, 2021 | Local News | Taylor Simpson
Good Harbor Vineyards Brings Home Top Awards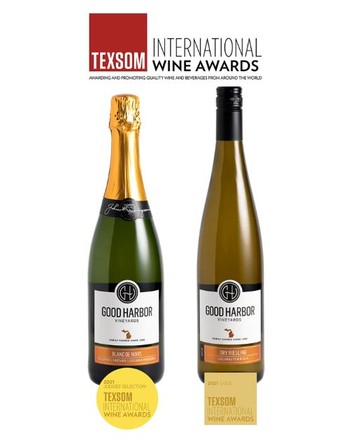 The Simpson Family Estate's winemaking team was thrilled to learn about the top awards given to the Good Harbor Vineyards wines they submitted to the 2021 TEXSOM International Wine Competition.
The Good Harbor Blanc de Noirs earned a Judge's Selection merit, given to only 3% of the wines in the competition. A total of 89 entries, demonstrating quality and unique character that are exceptional even amongst their medal-winning peers, received a Judges' Selection nomination.
The Judges' Selection nominees were subjected to head-to-head judging within expansive categories and 51 were awarded a Judges' Selection medal as the highest award of the competition out of a total of 2400 wine compeition entries. In addition to the Blanc de Noirs, the 2018 Dry Riesling took a Gold medal of which only 8% of the total enteries in the competition earned.
Kathryn Long, another Wine Judge and TEXSOM Retreat Writer at the 2021 competition, gave her critique of the Good Harbor Blanc de Noir, "The lakes of Michigan provide a perfect climate for estates like Good Harbor Vineyards to produce esteemed wines in the northern United States. Notes of pear tart and lemon curd greet the nose. The palate from their Blanc de Noir brings notes of watermelon and white cherries amid soft, playful bubbles. Though zippy and sprite, this wine still delivers the refinement and precision one expects of a sparkling Pinot Noir."
Receiving top merits on our wine from the Traverse Wine Coast is exciting for us and helps reinforce the message about the quality being produced in the Michigan wine industry, said Taylor Simpson, co-owner of both Aurora Cellars and Good Harbor Vineyards. "The Judge's Selection awards are further proof of the quality that is being grown and produced on the Traverse Wine Coast. Our wines are able to compete on a national scale and help gain attention from some of the best palates in the business."
Comments
Commenting has been turned off.
Recent Posts
September 20, 2023

September 6, 2023

August 31, 2023

August 24, 2023

August 17, 2023

August 16, 2023

July 25, 2023

July 22, 2023

July 4, 2023

July 3, 2023
Blog Categories
Blog Archives