Good Harbor Vineyards Earns Top Honors For The Blanc de Noirs and 2021 Pinot Noir Rosé
December 8, 2022 | Features, Product Updates, Red and Rosé Wines, Tasting Room | Devon Kessler
Good Harbor Vineyards Earns Top Honors For The Blanc de Noirs and 2021 Pinot Noir Rosé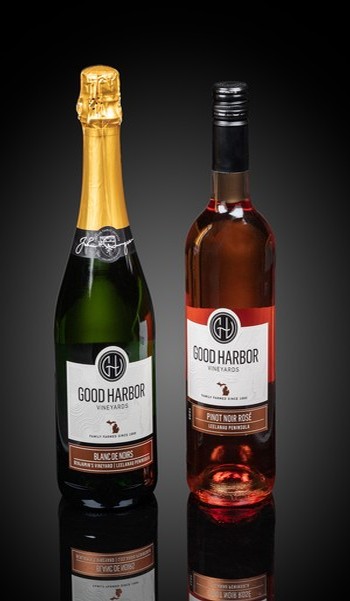 Two wines from Good Harbor Vineyards brought home the top award to Lake Leelanau from the 2022 Jefferson Cup Invitational Wine Competition.
The non-vintage Blanc de Noirs "Benjamin's Vineyard" and 2021 Pinot Noir Rosé were awarded the Jefferson Cup Award at the end of the two-day competition. This is the first time Good Harbor has brought home the high honor.
For the past 23 years, the Jefferson Cup Invitational Wine Competition has been called the "Olympics" of wine competitions and has recognized the "best of the best" from all of America's wine regions. By selecting both vinifera and non-vinifera wines each year, competition founder Doug Frost says the goal is to respect the diversity of American viticulture and Thomas Jefferson's own acceptance of native varieties and hybrids.
Michigan was one of 25 states to enter the 2022 competition. In total, 41 wines from 10 states - including Michigan - earned top honors.
Blanc de Noirs
Like all of our sparkling wines, our Blanc de Noirs is produced using the Charmat method to allow us to keep the fruit flavors of Pinot Noir front and center on the nose and palate. While enjoying this delicious bubbly, you will enjoy a creamy and balanced acidity with a light peach hue.
Even though it is dry in style, there is a creamy texture that allows this wine to pair lovely with a seafood dish or a variety of cheese and crackers.
This sparkling wine has also received the Judge's Selection during the 2021 TEXSOM Wine Competition and a 90 point rating from Wine Enthusiast.
2021 Pinot Noir Rosé
No rosé is the same. There is such a wide variety because vintners can produce them from such a large variety of red grapes or can choose to blend white and red grapes.
The fruit used in this wine comes from the same vineyard where we grow the Pinot Noir used in the Blanc de Noirs. It is one of the oldest Pinot Noir blocks in our vineyards.
When producing our Pinot Noir Rosé, we monitored the fruit daily up until it was harvested to make sure the phenolics were to specifications. After harvesting, we cold soaked the juice with half the skins of the fruit overnight before pressing them the next day.
You will experience bright cherry with lightly ripe strawberries aromas while you pour this delicious wine into your glass. Your taste buds will enjoy the classic cherry flavors from the Pinot Noir.
Comments
goodharbor
@ Feb 8, 2023 at 12:33 AM
There are some fascinating deadlines in this article but I don?t know if I see all of them center to heart. There may be some validity but I will take maintain opinion till I look into it further. Good article , thanks and we want extra! Added to FeedBurner as nicely
Facebook
@ Feb 8, 2023 at 10:02 PM
zsss
Recent Posts
February 8, 2023

February 3, 2023

January 26, 2023

January 6, 2023

December 16, 2022

December 16, 2022

December 8, 2022

(2 Comments)

December 2, 2022

November 18, 2022

November 16, 2022
Blog Categories
Blog Archives