Good Harbor Vineyards Receives Big Recognition from Robert Parker: The Wine Advocate
July 4, 2023 | Club, Features, Product Updates, Red and Rosé Wines, Tasting Room, White Wines | Devon Kessler
Good Harbor Vineyards Receives Big Recognition from Robert Parker: The Wine Advocate
Good Harbor Vineyards continues making headlines amongst some big names in the wine industry. Good Harbor was the only Michigan and Midwest winery to be included in Mark Squires' article USA, East Coast: Mostly New York. This article was the debut for our wines in The Wine Advocate. We had three of our whites and one of our reds make the list. The four wines that were included in the article were our 2022 Pinot Grigio, 2022 Unoaked Chardonnay, 2022 Albariño, and 2020 Pinot Noir-Zweigelt. Read the reviews for the four delicious wines below:

"The 2022 Pinot Grigio is unoaked and dry, coming in with four grams of residual sugar, 8.7 of total acidity and 12.3% alcohol. This was in bottle about 90 days when seen. The acidity easily gobbles up the modest sugar here, making this dry, crisp and lively, a great summer wine. The fruit is expressive too, and it is very tasty. This is a lighter-styled white, but it is a perfect fresh white for warm weather. Under screw-cap, I'm not so sure how well it will age, but with this type of wine, frankly, who cares. Hardly anyone is likely to cellar things like this for more than a year or so, and then perhaps by accident. Let's lean up now, while it is exuberant and delicious. It fulfills its role perfectly."
*This is the first recognition for our 2022 Pinot Grigio. Our 2021 vintage was recognized several times by VinePair in 2022 and received a 90 point rating from both VinePair and Wine & Spirits Magazine.*

"The 2022 Unoaked Chardonnay comes in with five grams of residual sugar, 7.9 of total acidity and 12.7% alcohol. This was in bottle about 60 days when seen, but this seems to be a fair look. Despite the slightly elevated sugar level, this seems dry, if a little fruity, because the acidity easily balances out the sugar (and vice versa). There is reasonable depth and a little bit of a steely finish. That finish is somewhat tense, filled with fruit and respectably long for the category. This is beautiful today, a perfect fresh white. Under screw-cap, it should hold decently, but that is hardly the point here. It will be great this summer and hopefully it will hold serve over the next few years too."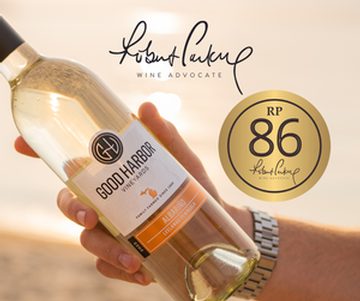 RP: 86 Points
"The 2022 Albariño is dry and comes in at 12.7% alcohol. A bit tart and even a little mouthwatering on the finish, this is not the well-balanced and somewhat fruity version of a white that we see in the winery's other fresh-white submissions in this report. It's a little more tense and a lot more dominated by its acidity. It is only moderately expressive of the grape, and it could use a little more ripeness. While its siblings in this report will be great as porch-sippers, this is probably going to require a little food to show its best. Some cheeses that require a high-acid white would do well as a pairing. Overall, I still like this, but it is not as complete or as expressive as its lower-priced siblings. As with them, under screw-cap, this should hold a bit, but that's not really the point here."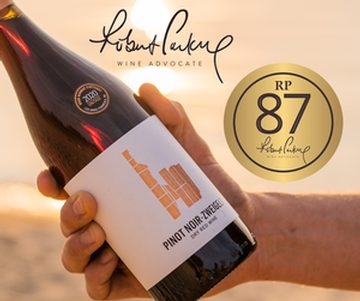 "The 2020 Pinot Noir - Zweigelt is a 60/40 blend with Zweigelt dominant, aged for 14 months in 25% new French oak. It comes in at 13% alcohol. This is pale in color and light in concentration, but it shows well in terms of its flavor profile. The red fruits of the blend are dried rather than overtly fruity, giving this an earthier feel to it. The acidity keeps it fresh while the oak is handled well. There's even a hint of tartness on the finish. This might be a peak moment. There's not much backbone, but at the moment this is in fine shape. I wouldn't hold it very long, as it is not likely to turn into anything more, but it's a great summer red today. You can chill this down a couple of degrees more than normal, and it will be especially refreshing."
As being a relatively young wine region, we are so appreciative of wine publications such as The Wine Advocate to continue to taste and report on emerging wine regions. Recognition like this one helps not only wine reviewers but also consumers see how wines from wine regions like Michigan continue to change and evolve over time. We are excited to be included in Mark Squires' selections for the article.
If you haven't tried these wines yet, come check them out in our tasting room! We would love to tell you more about them and what makes them so special.
Comments
Commenting has been turned off.
Recent Posts
September 20, 2023

September 6, 2023

August 31, 2023

August 24, 2023

August 17, 2023

August 16, 2023

July 25, 2023

July 22, 2023

July 4, 2023

July 3, 2023
Blog Categories
Blog Archives