Good Harbor Vineyards Showcases Michigan Wine Industry with Big Wins at San Francisco Chronicle Wine Competition
February 17, 2023 | Features, Tasting Room, Vine News | Devon Kessler
Good Harbor Vineyards Showcases Michigan Wine Industry with Big Wins at San Francisco Chronicle Wine Competition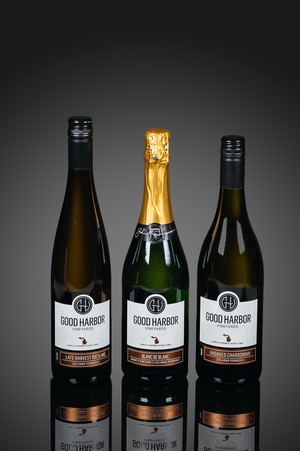 Good Harbor Vineyards is bringing home top awards from the 2023 San Francisco Chronicle Wine Competition, which is the largest competition for North American wines. Good Harbor was awarded two Best of Class and one gold medal. We also received four silver medals and one bronze medal.
The Best of Class was awarded to David's Vineyard Blanc de Blanc and the 2021 Unoaked Chardonnay. Good Harbor Vineyards is the only Michigan winery to win multiple Best in Class awards. Bringing home the gold was our 2020 Late Harvest Riesling.
"Good Harbor Vineyards was one of the few wineries in America that took two Best of Class Awards at the 2023 San Francisco Chronicle Wine Competition for their Blanc de Blanc and Chardonnay wines," said Bob Fraser, the Executive Director of the San Francisco Chronicle Wine Competition. "We are so pleased that Michigan has fantastic wineries such as the Good Harbor Vineyards. Congratulations!"
Blanc de Blanc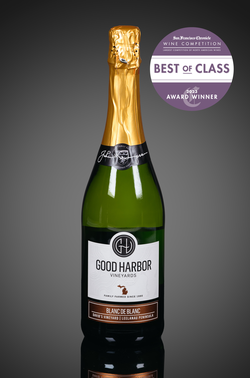 A staple in our John W. Simpson Sparkling Series, this delicious Blanc de Blanc brings bright scents of apple and lemon zest to your glass. Let the wine sit in the glass for a little bit, you will experience the additional aromas of apricots.
Produced using the Charmat Method, we are able to keep the fruit flavors you usually find in Chardonnay up front and center on both the nose and palate. This bubbly is the perfect option if you are looking to pair it with a meal or just want to enjoy a glass at the end of the day.
Mike Dunne, a longtime wine writer and professional judge for the San Francisco Chronicle Wine Competition, says "sparkling wines of this much brio, layering and persistence just aren't identified with Michigan, but here it is, all that, as well as a veritable apple orchard of fruit underscored with currents of toast and yeast."
The Blanc de Blanc also won Judge's Selection during the 2022 TEXSOM International Wine Competition and a gold medal during the 2022 San Francisco Chronicle Wine Competition.
Unoaked Chardonnay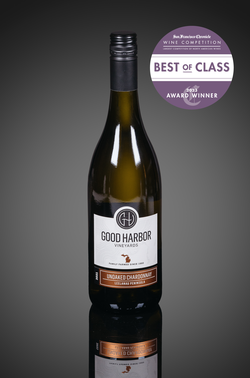 While our 2021 Unoaked Chardonnay may be small in production, it has definitely gained a following over the years. Chardonnay thrives in Michigan thanks to the snow protection, ideal soil composition and climatic conditions that are unique to our area.
While enjoying a glass of this delicious variety, you will experience the aromas of apple with a twist of lemon. Your taste buds will fall in love with the brightness and crispness of this wine. The ripe apple flavors will leave you satisfied after every sip. The combination of texture and balance from the stainless steel tank makes this Chardonnay a great addition to your meal.
Dunne describes this award winner as "just about the strongest statement that can be made that Chardonnay doesn't need to be fermented or aged in oak barrels to provide astonishment and delight." He recommends pairing this Chardonnay with a bowl of Cuban black beans with plantains, jalapeño chile pepper, avocado and red onion. The crispness has the "mettle to stand up to all that."
2020 Late Harvest Riesling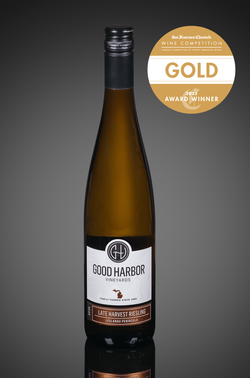 Bringing home the gold, our 2020 Late Harvest Riesling gives a crisp, natural acidity that helps in giving balance to a sweet wine. When making this wine, our team fermented the juice at a cool temperature in stainless steel tanks with special yeasts and enzymes to increase the aromatics. Before bottling, fresh juice was added to balance and sweeten the wine.
Your nose will enjoy the aromas of peaches and pineapple with this variety. The intense aromas of fruit will invite you into the party and tempt you to take sip after sip. Clean, sweet flavors leave this Riesling balanced with a lovely natural acidity. You will be smiling as you enjoy this wine with a large selection of cuisine.
"The Good Harbor Late Harvest Riesling is fresh and bright. It is sweet but not cloying," says Taylor Simpson, Co-Owner of Good Harbor Vineyards. "The wine has a loyal following and clearly gained the attention of the judges who unanimously agreed it deserved a gold from two of the largest and most prestigious wine competitions. We are thrilled to continue to bring awards back to Michigan from multiple categories."
This 2020 Late Harvest Riesling also won a gold medal during the Jefferson Cup Invitational Wine Competition in 2022.
If you haven't tried these wines, we welcome you to come in and see what the hype is all about.
Comments
Commenting has been turned off.
Recent Posts
September 20, 2023

September 6, 2023

August 31, 2023

August 24, 2023

August 17, 2023

August 16, 2023

July 25, 2023

July 22, 2023

July 4, 2023

July 3, 2023
Blog Categories
Blog Archives