Good Harbor's Sparkling Wines Continue to Gain National Attention
August 1, 2022 | Local News, Product Updates, Tasting Room | Devon Kessler
Good Harbor's Sparkling Wines Continue to Gain National Attention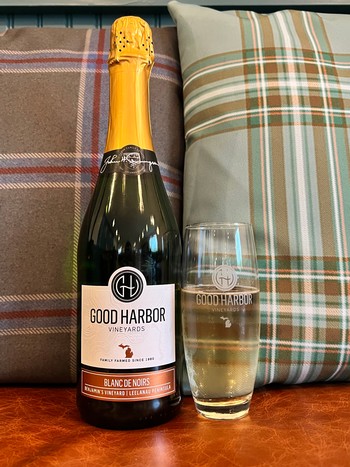 Sparkling wine from Good Harbor's John W. Simpson Sparkling Series continues to gain national attention. The delicious Blanc de Noirs was recently featured by Pix Wine as one of "The Best American Sparkling Wines to Try Right Now".
Senior Staff Writer for Pix Wine, Janice Williams, explains that even though wine regions like California and Washington produce the most bottles, there are states like Oregon, New York, and Michigan that have become hot spots for sparkling wine production. When it comes to making most American sparkling wines, Williams explains that the most popular method is the traditional method, or Methode Champenoise. At Good Harbor Vineyards, we use what is called the Charmat Method, or tank method. Unlike the traditional method - where the second fermentation happens in each individual bottle - the Charmat Method uses stainless steel tanks for its second fermentation process.
The Charmat Method can be used in any climate, however, Head Winemaker for Good Harbor Vineyards, Drew Perry, believes the Charmat method showcases the best varietal expression of the fruit. It allows the wine to retain acidity better and it is more vibrant on the palate. Good Harbor's Blanc de Noirs benefits from the Charmat Method because Perry is able to keep the fruit flavors found in Pinot Noir up front and present on both the nose and palate.
In her review of the Blanc de Noirs, Williams notes it is aromatic with cherry flavors. The strawberry nuances of the dry sparkling wine "shine through on the creamy palate along with a hint of minerality," explains Williams. Your palate will be excited when you pair this delicious bubbly with seafood or a variety of cheese and crackers.
Our Blanc de Noirs also earned Judge's Selection during the 2021 TEXSOM International Wine Competition. Come into our tasting room and try our award-winning bubbly for yourself to see what all the hype is about!
Comments
Commenting has been turned off.
Recent Posts
November 18, 2023

November 16, 2023

November 9, 2023

October 31, 2023

October 30, 2023

October 25, 2023

October 19, 2023

October 2, 2023

September 22, 2023

September 20, 2023
Blog Categories
Blog Archives