Hispanic Heritage Month: Gorditas Recipe

September 15, 2022 | Features, Wine and Food Pairings | Taylor Simpson
Hispanic Heritage Month: Gorditas Recipe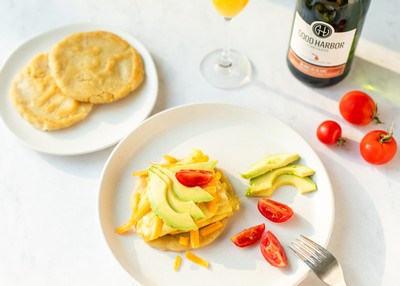 My Mexican mother-in-law has provided me with a delicious breakfast recipe. She paired this easy and delicious dish with a mimosa made with our multi-award winning Blanc de Blanc.
Her simple recipe is:
4 cups of Masa Harina
1 teaspoon of salt
1 tablespoon of oil (I use avocado oil)
3 1/3 warm water
3/4 water reserved for rolling and shaping
Filling:
Breakfast gorditas
Eggs with shredded melting cheese
Instructions
In a large bowl, add masa harina, baking powder, salt.
Mix and add half the water.
Continue mixing.
Add 1 ½ tablespoons olive oil.
Mix again and gradually add the remaining water until a soft dough forms.
The dough will resemble wet sand.
Cover with plastic wrap for 10 minutes.
With wet hands, roll out 6 masa balls the size of a baseball.
Gently pat the balls to form the gorditas.
If the edges crack, smooth out by rubbing water over the ends.
Place on a plate and cover while you form the rest of the gorditas.
Frying Method:
Heat ¼ cup oil in a skillet.
Fry the gorditas for 2 minutes on each side.
Set on a paper towel to drain any excess fat.
Griddle Method:
Heat 2 tablespoons olive oil on a griddle.
Cook gordita for 2 minutes on each side.
Using a serrated knife, cut in half to make a pocket.
Add fillings.
Enjoy!
Comments
Recent Posts
September 29, 2022

September 29, 2022

September 22, 2022

September 15, 2022

September 14, 2022

September 9, 2022

September 7, 2022

August 31, 2022

August 29, 2022

August 28, 2022
Blog Categories