Guide to Choosing the Best Cherry Wine

August 24, 2022 | Red and Rosé Wines, Tasting Room | Taylor Simpson
Guide to Choosing the Best Cherry Wine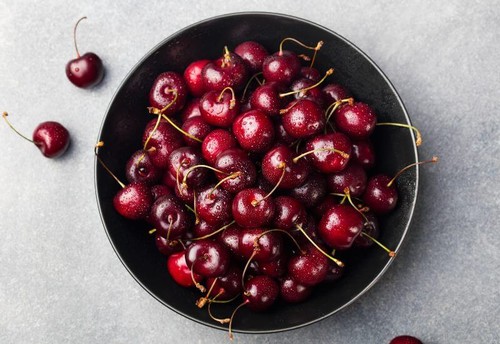 What's not to love about cherries? Richly colored, delicious, and flavorful, they're also loaded with antioxidants and anti-inflammatory compounds. You've probably eaten cherries straight out of a bowl, cooked into a savory dish, baked in a pie, or nestled in whipped cream atop a sundae, but have you ever tried cherry wine? Many people think wine can only come from grapes, but that's not true. Many fruits can be fermented into wines, and cherry wines have been around since the Great Depression. Want to know more? Here's a brief guide to cherry wine.
Cherry wine began as homebrew during prohibition, but when it comes to official winemaking, Michigan is where it all really started. Cherry farmers in Michigan in the 1980s became the nation's first cherry winemakers, and since then, Michigan has produced cherry wine every year, shipping bottles of wonderful cherry wine across the globe.
In fact, cherry wines now make up 25 percent of wines sold by Michigan wineries. In recent years, other Midwestern and Northwestern states have jumped on the bandwagon, producing their own cherry wines for a rapidly growing market.
Of course, there are many different varieties of cherries, some tart, and some sweet. Sweet cherries are typically grown in California, Washington, and Oregon, and while they are delicious for eating, they're low in acid, which makes them unsuitable on their own for winemaking. Tart cherries are grown in the humid climates of Michigan, Pennsylvania, and Wisconsin, and they're perfect for winemaking because of their high acidity. The tastiest cherry wines are made from a mixture of sweet and tart cherries, for a pleasant, well-balanced flavor. Cherry wines are made using a process that's almost identical to winemaking, in which the fruit is pressed, stewed, and fermented.
They're delicious, but are cherry wines good for you? The answer is a resounding yes! Like red wine, cherry wines are good for the heart because of their anti-inflammatory properties, and they're packed with antioxidants, which protect against the free radicals linked to heart disease, cancer, and other illnesses. Cherry wines can help with the management of diabetes because they contain natural sugars that don't increase the blood glucose levels and can, in fact, help with glucose regulation. Cherries have also been shown to help lower bad cholesterol, improve sleep, and help with arthritis and blood pressure issues.
So, how does one enjoy cherry wine? Cherry wine should be consumed within a year of bottling, and it's best served chilled. Beyond that, it can be enjoyed anyway you like! Cherry wines are lovely dessert wines, pairing beautifully with just about any dessert. They can also be the perfect accompaniment to Asian foods and meats. Cherry wine is delicious all on its own or mixed into a cocktail.
When you want to try a new wine or tour a local winery, check out Good Harbor Vineyards. Family owned and operated, Good Harbor has been making wine in Northern Michigan for over 40 years. We've got more than 125 acres of prime vineyard land dedicated to producing Riesling, Chardonnay, Pinot Grigio, Gruner Veltliner, and Pinot Noir varietals, along with Merlot, Pinot Blanc, Sauvignon Blanc, Zweigelt, Lemberger, and Cabernet Franc. Carefully cultivated, and harvested by our dedicated team, our grapes are then made into the best wine possible, consistently overdelivering for the price.
For more information about our vineyards, the winemaking process, or the Good Harbor Connoisseur Wine Club call 231-256-7165 or come visit us for a tour!
Comments
Commenting has been turned off.
Recent Posts
November 18, 2023

November 16, 2023

November 9, 2023

October 31, 2023

October 30, 2023

October 25, 2023

October 19, 2023

October 2, 2023

September 22, 2023

September 20, 2023
Blog Categories
Blog Archives