Hispanic Heritage Month Recipe: Steak Fajitas
October 2, 2023 | Wine and Food Pairings | Devon Kessler
Hispanic Heritage Month Recipe: Steak Fajitas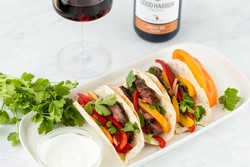 Hispanic Heritage Month is a time to celebrate the rich and diverse culture, traditions, and flavors of the Hispanic community. One delicious way to honor this vibrant heritage is by exploring Latin-inspired dishes that have captivated taste buds around the world. From the sizzling streets of Mexico City to the colorful markets of Havana, Latin cuisine is a fusion of history, passion, and ingredients that tell a story of resilience and celebration.
To celebrate all the flavors and colors that come with the Latin culture, we are sharing our favorite steak fajitas recipe that we paired with our delicious Coastal Red.
Steak Fajitas
Recipe Provided by: Add A Pinch
Ingredients
2 lbs skirt, flank, sirloin, or hanger steak; sliced into ½ inch strips
1 red pepper; deseeded and sliced into thin strips
1 bell pepper; deseeded and sliced into thin strips
1 medium onion; peeled and sliced into thin strips
3 tbsp. Olive oil
1 tbsp. Lime juice
½ tsp. Chili powder
1 tsp. Ground cumin
A pinch of cayenne pepper
½ tsp. Kosher salt
½ tsp. Ground black pepper
2 cloves garlic; minced
6-8 tortillas; warmed
Optional garnish: sour cream, guacamole, salsa
Directions
Place the steak into a sealable bag. Place the peppers and onion into a separate sealable bag. Add the olive oil, lime juice, chili powder, ground cumin, cayenne pepper, salt, black pepper, and garlic to a jar with a screw top or tight fitting lid. Shake until well combined. Pour 1/3 of the marinade over steak, 1/3 of marinade over vegetables and reserve the remaining marinade in the jar for using when cooking the steak fajitas. Seal the bags tightly and refrigerate for one hour to overnight.
When ready to cook, heat a large skillet over medium-high heat. Pour the vegetables into the skillet and cook until just tender crisp, about 5 minutes. Remove the vegetables from the skillet to a plate and add steak strips to the same skillet. When the steak is cooked throughout (about 7-10 minutes), add vegetables back to the skillet along with the reserved marinade.
Serve with warm tortillas and desired optional garnishes.
Comments
Commenting has been turned off.
Recent Posts
November 18, 2023

November 16, 2023

November 9, 2023

October 31, 2023

October 30, 2023

October 25, 2023

October 19, 2023

October 2, 2023

September 22, 2023

September 20, 2023
Blog Categories
Blog Archives