Holiday Appetizer: Cranberry Brie Bites Paired with 2020 Pinot Noir Zweigelt
December 16, 2022 | Features, Red and Rosé Wines, Wine and Food Pairings | Devon Kessler
Holiday Appetizer: Cranberry Brie Bites Paired with 2020 Pinot Noir Zweigelt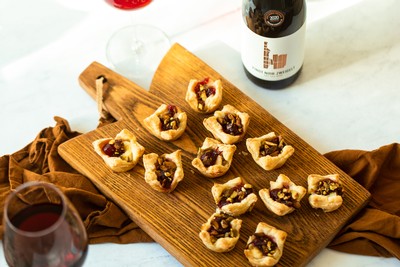 Cranberry. The flavor of the holidays. Combine it with brie, some puff pastry, and a glass of Good Harbor Vineyards Pinot Noir Zweigelt and your guests will be asking for more! Whether you need to make a quick, last minute appetizer to bring with you or make something ahead of time, these Cranberry Brie Bites from The Pioneer Woman are the perfect choice!
Cranberry Brie Bites
Ingredients
1 sheet frozen puff pastry, from 1, 17oz box
Nonstick cooking spray
4 oz. brie cheese
1/2 c. cranberry sauce, homemade or canned
3 tbsp. raw shelled pistachios, chopped
Flaky sea salt and ground black pepper, optional
Directions
Thaw the puff pastry according to package directions.
Preheat the oven to 400°F. Spray a 24-well mini muffin pan with non-stick cooking spray. Place the brie in the freezer for 20 minutes or until firm to the touch.
On a well floured surface, roll the sheet of puff pastry into a 10x15-inch rectangle. Cut the pastry into 4 strips lengthwise. Then, cut the pastry crosswise into 6 strips, creating 24 squares. Press the pastry squares into each well of the muffin pan, letting the excess stick up over the edges.
Cut the firm brie into 24 (½-inch) slices. Place a piece in the center of each pastry square. Top each with about 1 teaspoon of cranberry sauce. Sprinkle with chopped pistachios.
Bake for 15 minutes or until the puff pastry is golden brown on the edges and the cheese is bubbly. Let cool in the pan for 5 minutes. Remove the bites from the pan and garnish with sea salt and pepper, if desired.
The bright aromas of Bing Cherry in the 2020 Pinot Noir Zweigelt make this red blend the perfect companion to this appetizer. You will also experience the subtle aroma of vanilla derived from fermentation and aging in new French Oak. In addition to the flavors from the appetizer, your taste buds will enjoy flavors of raspberry jam on the medium to long finish of the wine.
Comments
Commenting has been turned off.
Recent Posts
November 18, 2023

November 16, 2023

November 9, 2023

October 31, 2023

October 30, 2023

October 25, 2023

October 19, 2023

October 2, 2023

September 22, 2023

September 20, 2023
Blog Categories
Blog Archives