Holiday Cocktail: Harbor Red Christmas Sangria
December 16, 2022 | Cocktail Recipes, Features | Devon Kessler
Holiday Cocktail: Harbor Red Christmas Sangria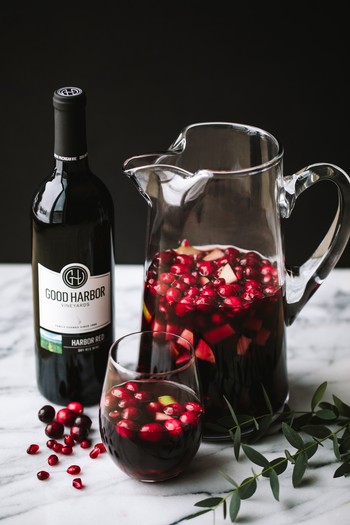 Harbor Red Christmas Sangria
Ingredients
1 bottle of Good Harbor 'Harbor Red'
2 cups of pomegranate juice
½ cup of apple cider
¼ cup of honey
Arils from one pomegranate
1 cup of cranberries
1-2 green pears, chopped
Directions
Add fresh fruit to a large pitcher
Combine all the liquid ingredients separately, then add to fruit and stir to combine
Refrigerate until cold. Prepare the sangria ahead of time if possible, up to a full day before serving. The longer the sangria sits, the more flavorful it will be.
Enjoy!

​
Comments
Recent Posts
February 8, 2023

February 3, 2023

January 26, 2023

January 6, 2023

December 16, 2022

December 16, 2022

December 8, 2022

(2 Comments)

December 2, 2022

November 18, 2022

November 16, 2022
Blog Categories
Blog Archives