Holiday Sparkling Wine Cocktail: Partridge in a Pear Tree
December 2, 2022 | Cocktail Recipes, Features | Devon Kessler
Holiday Sparkling Wine Cocktail: Partridge in a Pear Tree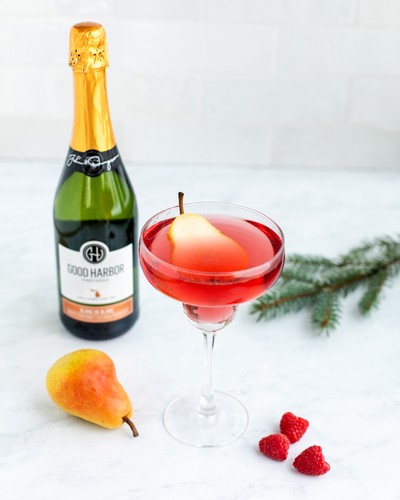 🎵 On the first day of Christmas, my true love gave to me……a partridge in a pear tree! 🎵
If you're looking for a simple and quick holiday cocktail for your guests to enjoy during your party, this Partridge in a Pear Tree cocktail from Total Wine & More made with our Blanc de Blanc is perfect!
Partridge in a Pear Tree
Ingredients
1 oz. Pear Vodka
1 oz. Framboise
3 oz. cran-raspberry juice
1 slice(s) pear, to garnish
1 or 2 oz. of Good Harbor Blanc de Blanc
Instructions
Pour Pear Vodka into a cocktail shaker with ice.
Add Framboise and cran-raspberry juice.
Shake well. Strain into martini glass, top with Blanc de Blanc and garnish with pear slice.
Visit our tasting room or our website to purchase our multi-award winning Blanc de Blanc and all of your other wine needs for the holidays!
Comments
Recent Posts
February 8, 2023

February 3, 2023

January 26, 2023

January 6, 2023

December 16, 2022

December 16, 2022

December 8, 2022

(1 Comment)

December 2, 2022

November 18, 2022

November 16, 2022
Blog Categories
Blog Archives