Kick Off The Summer with New Wines from Good Harbor Vineyards

May 26, 2022 | Product Updates, Vine News | Taylor Simpson
Kick Off The Summer with New Wines from Good Harbor Vineyards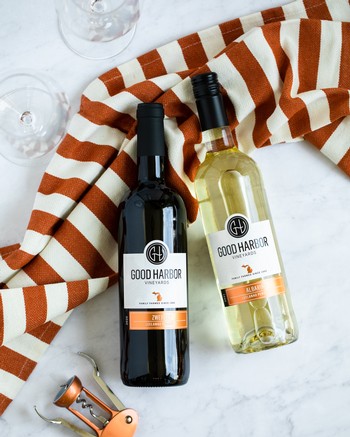 A new growing season means new wine for you to enjoy! For 2022, Good Harbor Vineyards is releasing a couple of new wines - Albariño and Zweigelt. Here is a little background on each wine and what they pair well with.
Albariño
Albariño (alba-reen-yo) is grown mainly in the northwest regions of Spain and Portugal. Wine experts say Albariño vines are some of the oldest living vines in the world and can be up to 300 years old. It usually performs well in cool and intermediate climates such as Galicia - which can experience heavy Atlantic storms.
With Michigan being a cool climate growing region, it makes a great place for Albariño to grow. The soil of the vineyard site in which Good Harbor Vineyards grows Albariño was carefully prepared with strategic cover crops to enrich the soil for four years and is in an ideal state to grow the high quality crop. We were pleasantly surprised with this crop because it produced fruit in its second leaf. Usually, vines don't yield fruit until the third year but the second leaf justified farming it to produce a vintage. Good Harbor Vineyards is only one of a handful of producers in the state of Michigan to produce this white wine variety.
Due to its crisp and balanced acidity, Albariño can be enjoyed with or without food. When it comes to pairing it with a protein, wine experts recommend going for lighter meats, fish and seafood. If you are more of a cheese and wine type of person, this white pairs well with soft cheeses like burrata or semi-hard cheeses including manchego, gouda and salty feta.
The grassy notes of the wine allow it to pair well with the fresh green herbs found in salsa verde - which would make it the perfect drink to enjoy if you are thinking of making Mexican - especially fish tacos!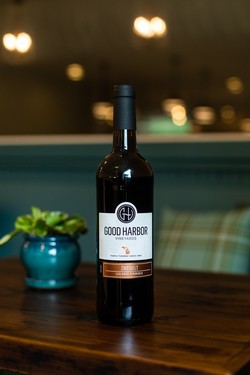 Zweigelt
Zweigelt is a grape variety that is widely grown throughout Austria. It was created in 1922 by Friedrich Zweigelt and comprises a crossing between St. Laurent and Blaufrankisch. The St. Laurent is able to give the variety a nice ripe cherry while the Blaufrankisch imparts on the spice.
Good Harbor Vineyards is only one of two producers in the state of Michigan to grow and produce this delicious red wine variety. The medium palate and the medium to long finish of the Zweigelt grape are typical of warmer growing seasons. While we are in a cool climate growing region, we are able to produce a red wine with leathery tannins accompanied by a medium to long finish.
After being harvested, the juice spent 20 days on its skins in an open top fermenter. To help achieve the desired finish, we punched it down four times a day. Before being ready to bottle, it spent 14 months in French Oak barrels - 33% New French Oak, 33% Second Use and 33% Third Use.
Our Zweigelt has aromas of cranberries, currants, and light black pepper. Wine experts say this ultimate picnic red wine will moisten up even the driest piece of barbecue grilled chicken but also make store-bought macaroni salad taste amazing!
If you are looking to pair this wine with a protein, it is recommended to pair it with fish, particularly shellfish. Fish cooked in wine or a tomato-based sauce is sure to bring out the flavors of this rare red wine. Zweigelt also goes well with any protein that red-meat eaters enjoy but experts do recommend sticking to lighter red meats when pairing.
When it comes to pairing Zweigelt with cheese, try to stick to less pungent options. These can include goat's milk cheese, gouda, cream cheese, Roquefort, and Majorero.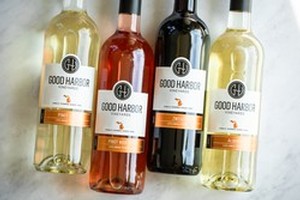 Albariño and Zweigelt aren't the only news Good Harbor Vineyards has to offer this season. Consumers can also enjoy a 2021 Pinot Blanc, 2021 Pinot Noir Rose and a 2020 Pinot Noir Zweigelt.
Come try these wines for yourself by visiting our tasting room! It is open Thursday-Monday from 12 p.m. to 5 p.m. These wines are also available for purchase on our website.
Comments
Commenting has been turned off.
Recent Posts
September 20, 2023

September 6, 2023

August 31, 2023

August 24, 2023

August 17, 2023

August 16, 2023

July 25, 2023

July 22, 2023

July 4, 2023

July 3, 2023
Blog Categories
Blog Archives