Pink Perfection: Exploring the World of Rosé Wine
May 30, 2023 | Club, Features, Product Updates, Red and Rosé Wines, Tasting Room | Devon Kessler
Pink Perfection: Exploring the World of Rosé Wine
This season, Good Harbor Vineyards will have two different rosé wines available to our patrons - 2022 Pinot Noir Rosé and 2022 Rosé. With its mesmerizing hues, delicate aromas, and refreshing flavors, rosé has emerged as the quintessential embodiment of elegance and versatility in the wine world.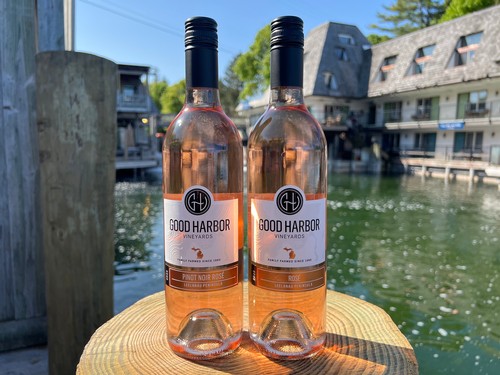 Whether you're a passionate aficionado or simply seeing a delightful summer sip, this blog is your gateway to uncovering the secrets and stories that lie within each captivating bottle of rosé and what it takes to make the different varieties at Good Harbor Vineyards.
Before we dig into the differences between the two rosé wines being offered in our tasting room, let's learn a little bit about the world of rosé wine and what makes it so unique from glass to glass.
Experts describe that rosé wine happens when the skins of red grapes touch wine for only a short time. While some reds ferment for weeks on the skins, rosé wines are stained red for just a few hours. When producing rosé wine, the winemaker has complete control over the color of the wine and removes the red grape skins when the wine reaches the optimal color for their needs.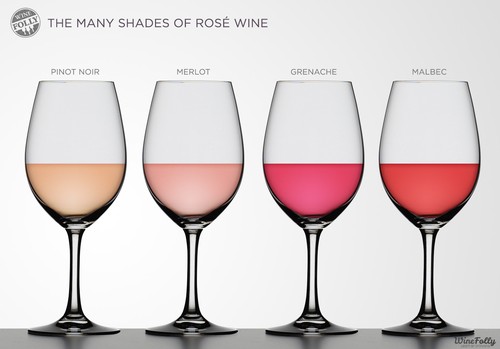 (This infographic shows four of the many shades that rosé wine can turn out to be depending on the style you are making. Courtesy of Wine Folly)
Nearly any red wine grape can be used to make rosé wine, there are several common styles and grapes that are preferred for rosé.
Some of the popular styles of rosé wine include:
Grenache Rosé - This fruity, brilliant ruby red hue rosé has notes of ripe strawberry, orange, hibiscus, and sometimes with a hint of allspice.
Sangiovese Rosé - This fruity rosé has a bright copper-red color has notes of fresh strawberries, green melon, roses and yellow peach.
Tempranillo Rosé - This savory rosé is growing in popularity from the Rioja region and other parts of Spain. When enjoying this style, you can expect a pale pink hue with notes of green peppercorn, watermelon, strawberry, and meaty notes reminiscent of fried chicken.
Syrah Rosé - This savory rosé has deeper ruby colors. The palate of this style of rosé definitely has a funky side with notes of white pepper, green olive, strawberry, cherry, and peach skin.
Cabernet Sauvignon Rosé - Cabernet rosé is a deep ruby-red colored wine that has red wine-like flavors of green bell pepper, cherry sauce, black currant, and pepper spice.
Zinfandel Rosé - Also known as White Zinfandel, this is the most popular rosé sold in the United States. This style of rosé offers flavors of strawberry, cotton candy, lemon, and green melon.
Tavel Rosé - This style is considered to have all of the character of a good red wine - with less color. The salmon-pink wine has aromas of summer fruits that can turn to rich-nutty notes as it ages.
Provence Rosé - This fruity and lean rosé wine has aromas of strawberry, fresh-cut watermelon, and rose petal thanks to the use of Grenache, Cinsault, Syrah, and Mourvèdre in the process of making it.
Mourvèdre Rosé - This fruity and floral wine style has a pale, coral hue in color and is floral on the nose with notes of violets and rose petals. On the palate, you will experience red plums, cherries, dried herbs, smoke, and event meat.
Pinot Noir Rosé - When in rosé form, Pinot Noir delivers subtle aromas of crabapple, watermelon, raspberries, strawberries, and wet stone.
How To Make Rosé Wine
When producing rosé wine, there are two major differences when it comes to making this beautiful pink wine and white wine. First, rosé wines use both white and red grape varieties. Second, while standard rosé winemaking is similar in process to white winemaking, there is an additional maceration time added in the beginning.
There are three different methods to producing rosé wine, including:
Maceration Method - This is the most commonly used method to produce commercial rosé. Maceration is a technique where grapes are pressed and sit in their skins for a certain period of time. For rosé, the juice is separated from the skins before it gets too dark. If the winemaker is going for a lighter variety, like Pinot Noir, this process can take 24 hours. For darker red-wine varieties, like Mourvedre, the process sometimes only lasts a few hours.
Vin Gris Method - Vin Gris translates to "Gray Wine" and is typically used when red grapes are used to make a nearly-white wine. This method uses an extremely short maceration time. The Vin Gris style of rosé winemaking is popular for the lighter red wine varieties such as Pinot Noir in the United States and Gamay or Cinsault in France.
Saignée Method - When using this method, the winemaker is capable of producing some of the longest lasting rosé wines. The wine that comes from this method is a by-product of red winemaking. While red wine ferments, about 10% of the juice is bled off, leaving a higher ratio of skin contact on the remaining juice resulting in a richer and bolder red wine. The bled wine, or Saignée, is then fermented into rosé. Wines produced from this method are typically much darker than Maceration Method wines and are also much more savory.
At Good Harbor, our winemaking team crushed the grapes used in the Pinot Noir Rosé wine and let the skins soak in the juice for about 15 to 20 hours before the pressing process.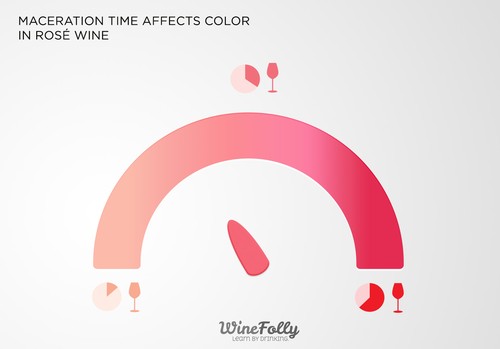 (Depending on the amount of time that the skins of the grapes used in the rosé wine being produced, the color of the final product will vary. Courtesy of Wine Folly.)
2022 Pinot Noir Rosé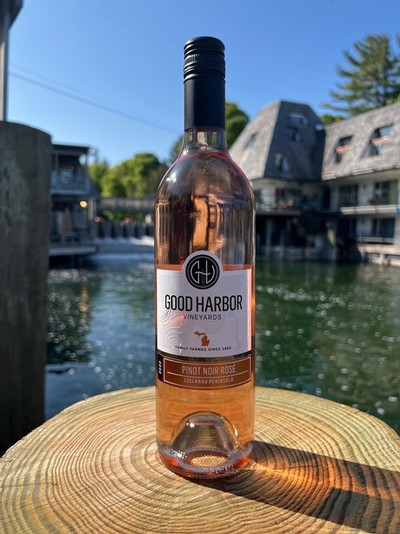 The 2022 Good Harbor Pinot Noir Rosé is the perfect rosé if you're looking for one that is light but creamy in style with a well-balanced level of acidity. The fruit used in this wine was monitored daily leading up to harvest to make sure it was harvested at the optimum time for Head Winemaker Drew Perry's specifications.
The fruit used in this Pinot Noir Rosé grows in Benjamin's Vineyard. Benjamin's Vineyard is the same vineyard where we grow the Pinot Noir that is used in our multi-award winning Blanc de Noirs. This vineyard is one of the oldest Pinot Noir blocks on our property.
When processing this wine, our winemaking team began cold soaking the juice with half of the skins overnight - about 16 hours - before pressing it the next day. Perry explains that this process was done with the intention of extracting color and more complex fruit tones without losing the acidity needed to preserve the wine. Before being bottled, this wine was fermented cool for one month.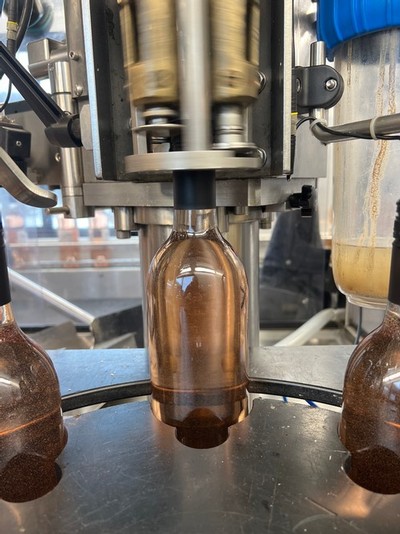 (The 2022 Good Harbor Pinot Noir Rosé receiving its screw cap before moving onto the labeling portion.)
This wine has aromas of bright cherry that are followed by ripe strawberries. Just like with a glass of Pinot Noir, the classic cherry flavors continue on the palate with this wine. While this wine pairs well with a wide variety of cuisine, experts recommend pairing it with thyme-roasted chicken, Gouda cheese, salmon, and salads.
Our 2022 Pinot Noir Rosé is a Wine Club Exclusive wine. If you would like to purchase a bottle to enjoy, join our Connoisseur Wine Club for free either online or in our tasting room.
2022 Rosé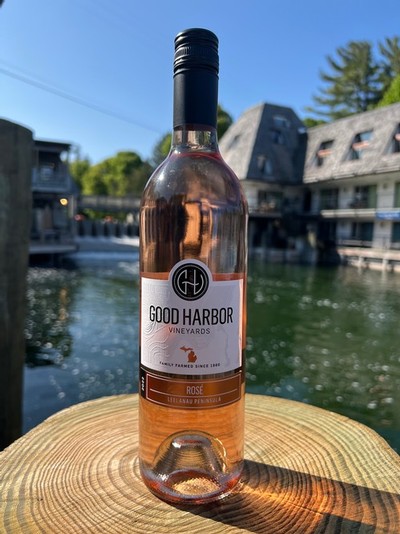 New to our tasting room this season, our 2022 Rosé is the perfect porch sipper!
Our winemaking team used a blend of Pinot Grigio (60%), Chardonnay (38%), and Merlot (2%) for the blush color to make this rosé. During the production process, our team fermented the Pinot Grigio and the Chardonnay together and then added the Merlot in at a different time. The three varieties finished the fermentation process together before being bottled.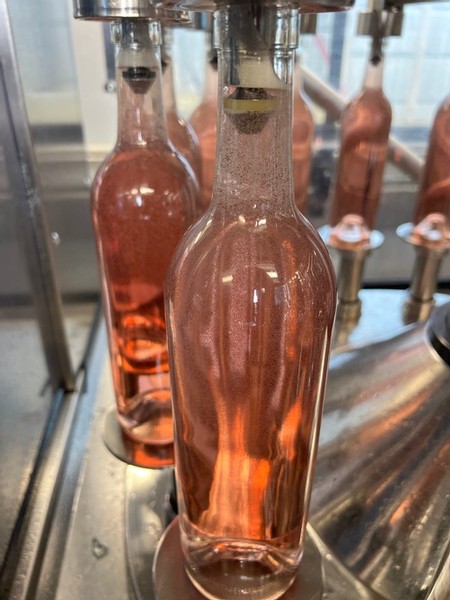 (The 2022 Good Harbor Rosé being bottled in the mobile bottling unit for Good Harbor Vineyards.)
When enjoying this bright and vibrant wine, your nose will experience apple, citrus, and hints of cherry aromatics. This wine is best enjoyed chilled and can pair well with a variety of cuisines, including seafood, soft cheeses, and grilled meats.
Come try out this gorgeous pink wine in our tasting room any time this summer!
Comments
Recent Posts
September 20, 2023

September 6, 2023

August 31, 2023

August 24, 2023

August 17, 2023

August 16, 2023

July 25, 2023

July 22, 2023

July 4, 2023

July 3, 2023
Blog Categories
Blog Archives