Pinot Blanc: The Lesser Known Member of The Pinot Family
June 22, 2022 | Product Updates, Tasting Room | Devon Kessler
Pinot Blanc: The Lesser Known Member of The Pinot Family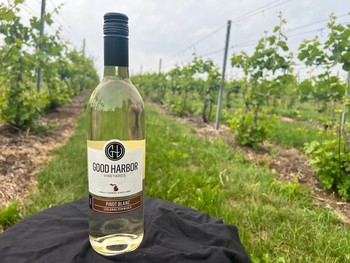 Many people are familiar with the more popular wine varieties Pinot Noir and Pinot Grigio, but are less familiar with the delicious white wine variety of Pinot Blanc. Pinot Blanc is a white grape mutation of Pinot Noir. The variety is more often found in parts of Germany and Northern Italy where it is most commonly produced in a refreshing and dry style.
Pinot Blanc has been considered the least talked about variety of the top three mutations of the Pinot family. Among wine drinkers, Pinot Blanc is what we imagine great Pinot Grigio to be - light, fruity, and with lots of mouth quenching acidity. Even though the fine wine is loved by many wine connoisseurs, it is not as well known as its white Pinot counterpart, Pinot Grigio, and therefore not typically found in many retail locations. When shopping for a Pinot Blanc, it can usually be located in the following wine retail sections: Italy, Germany, Austria and France. We are starting to see more Pinot Blanc being produced by a handful of Michigan producers as well.
Often, Pinot Blanc is regarded as Chardonnay's understudy due to its similar medium and full-bodied style with good acidity. Varietal characters of Pinot Blanc can include apple and almond with a touch of smokiness sometimes.
The white-wine grape variety is very versatile for winemakers because it can be used in the production of still, sparkling and sweet dessert wines. When it comes to pairing Pinot Blanc with food, experts suggest matching it up with soft cheeses, salads with cream dressings and flaky fish.
With Pinot Blanc being an austere variety by nature, coaxing complexity out of it can be an exercise in patience, or futility, describes Good Harbor Vineyards Winemaker Drew Perry. At Good Harbor, we added 20% auxerrois vines with the intention that it would always be field blended in with the Pinot Blanc. We are able to harvest these two varieties together and process them as one. Perry explains that this helps resist the urge to keep the varieties apart and stay true to Good Harbor's vision.
At Good Harbor, we ferment this variety cool and stop the process with a fraction of a percent of residual sugar. We are then able to let the wine passively build on a bed of lees over the span of five months. Perry explains the 2021 Pinot Blanc is only the second crop from these vines from David's Vineyard so we are able to better understand how best to handle them in order to properly express the fruit in the vineyard.
Good Harbor's Pinot Blanc is dry in style and brings aromas of pear with hints of lime zest to the drinker's nose. The first sip will excite your taste buds with bright citrus notes. Come in and taste our Pinot Blanc for yourself! Our tasting room is open seven days a week!
Comments
Commenting has been turned off.
Recent Posts
November 18, 2023

November 16, 2023

November 9, 2023

October 31, 2023

October 30, 2023

October 25, 2023

October 19, 2023

October 2, 2023

September 22, 2023

September 20, 2023
Blog Categories
Blog Archives