Rosé for Days: 2021 Pinot Noir Rosé

May 13, 2022 | Club, Product Updates, Red and Rosé Wines, Vine News | Taylor Simpson
Rosé for Days: 2021 Pinot Noir Rosé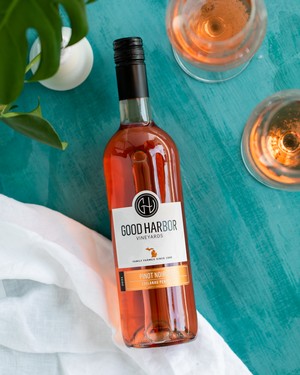 On the Leelanau Peninsula Wine Trail, May is the month to celebrate the delicious style of wine referred to as rosé. These wines are special because they can be produced from such a large variety of grapes. Just like snowflakes, no two rosés are the same, which helps the consumer continue to explore new rosés from all parts of the world every year.
Pinot Noir Rosé is one of 10 different styles of rosé typically made around the world. According to winefolly.com, Pinot Noir is the diva on the grape runway. Its fruit is intolerant of any extreme weather - which makes growing it in a cool climate like Northern Michigan great. The variety is considered to be sensitive and temperamental.
Pinot Noir is one of seven different types of dry rosé wines. Wine experts say dry rosé wine is the most common style produced around the world today. France and Spain lead the way in rosé production where it is typically made with a blend of 2 to 3 different grape varieties.
To make our 2021 Pinot Noir Rosé, we wanted to go for a lighter style with an elegant acidity. While on the vines, the fruit was monitored daily closer to harvest so we could make sure it was harvested when the phenolics were to the winemaker's specification. During the winemaking process, we started by cold soaking the juice with half of the skins of the fruit overnight, and then gently pressed it off the skins the next day.
There are several methods to produce rosé. At Good Harbor, we use the maceration method, which requires us to soak the grapes in their skins for 15 hours to extract the color. We then press the juice off before running it through a cool, slow fermentation before storing it in a cool environment. The Maceration method is typically used in red wine making but to make sure the juice extracts the right color for rosé, the juice is separated from the skins before it gets too dark.
With Pinot Noir Rose's palette being of classic, bright cherry flavors, it pairs well with a wide variety of cuisine from around the world. Some of the cuisines that pair well with rosé wine are chicken, seafood, fish, soft cheeses such as goat cheese, and barbecued veggies.
Come visit us and try the new 2021 Pinot Noir Rosé in our tasting room. It is open Monday-Saturday from 11 a.m. to 5 p.m. and Sunday from 12 p.m. to 5 p.m. It's so good you may even want to take a bottle or two home with you!
Comments
Commenting has been turned off.
Recent Posts
November 18, 2023

November 16, 2023

November 9, 2023

October 31, 2023

October 30, 2023

October 25, 2023

October 19, 2023

October 2, 2023

September 22, 2023

September 20, 2023
Blog Categories
Blog Archives