LOCAL NEWS: Simpson Family Estates Kicks Off Five-Year Campaign For Leelanau Children's Center With Farm-To-Table Dinner
August 19, 2022 | Local News | Devon Kessler
LOCAL NEWS: Simpson Family Estates Kicks Off Five-Year Campaign For Leelanau Children's Center With Farm-To-Table Dinner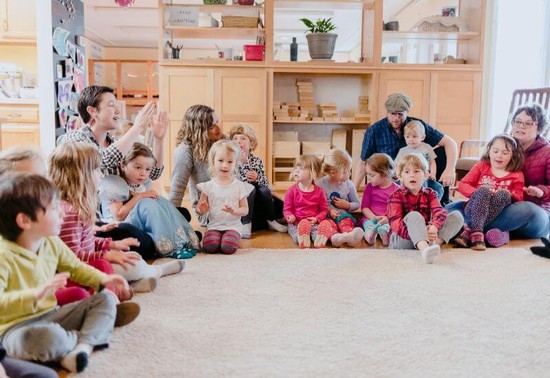 Simpson Family Estates, the owners of Good Harbor Vineyards and Aurora Cellars on the Leelanau Peninsula, is partnering with the Leelanau Children's Center on a fundraising campaign to benefit the family's namesake endowment.
The five-year campaign kicks off the evening of Aug. 31 with a farm-to-table dinner plus entertainment and a live auction at Aurora Cellars, the family's winery in Lake Leelanau. The menu will be created by the chefs at Island Thyme Catering and guests can also partake in an intimate tasting experience with Leelanau winemakers, signature cocktails by Tonic & Lime, and hand-crafted mocktails by Audacia Elixirs. Tickets can be found here.
An online fund-raising campaign will be held in tandem with the event.
Sam Simpson and Taylor Simpson, who are Simpson Family Estate's third-generation owners and managing partners, share that The Leelanau Children's Center has been an organization close to their family ever since their grandparents, John and Millie Simpson, began the Simpson Family Fund in 1990 for the newly created school.
John and Millie Simpson were the founding members of Harbor Hill Fruit Farms and Good Harbor Vineyards, both of which are part of Simpson Family Estates.
The Leelanau Children's Center, which began as a playgroup in the basement of the Leland Community Methodist Church, evolved into an accredited family support early childhood education program, which has been nationally recognized. The nonprofit school serves preschoolers, ages 30 months to 5 years, with an emphasis on early relationships, early experiences and child initiated play-based learning.
The Simpson Family Fund will help cover tuition gaps for families who can't afford to send their children to the early childhood education school in Leland. Every child who attends the school receives some sort of scholarship to help with tuition costs.
"This endowment means long-term sustainability for the children's center," says its executive director Heidi Kruse. "The cost of education is so much higher than we can charge for tuition or what families can afford. This allows children who would otherwise not have access to pre-kindergarten readiness to attend the school. It means everything for the center and for our children's futures."
Kruse notes that John Simpson funded the initial portion of the endowment to "make sure those who couldn't afford tuition could still go to school."
Sam Simpson shares that continuing the philanthropic legacy of their grandparents is based in a belief that an investment in the education, growth, and development of all children is a long-term investment in the health of the community.
"Access to early childhood education is more important than ever," says Simpson. "We're young business people living in this community…and our success as a community is tied to developing a solid community foundation. If people are making unsustainable choices because there is no childcare available, that creates a rocky foundation."
Simpson notes that like other regions in Michigan and around the country, Leelanau County is experiencing high real estate costs, a shortage of new, affordable housing and a limited pool of job applicants.
"If we are trying to recruit people downstate or from out west and they're trying to move here and see the cost of housing, the cost of childcare, it becomes a less attractive place to move your family," Simpson says. "It's a hindrance to getting quality staff in our community."
Taylor Simpson agrees, noting a community is only as strong as the support being given to its children. "If you have an organization where kids can go and learn to prosper, that feeds into the community," she says. It helps grow a prosperous community. There's hard evidence that high quality early childhood education makes a huge difference."
Anyone wishing to donate may go to the Simpson Family Endowment at the Leelanau Children's Center website.
Comments
Commenting has been turned off.
Recent Posts
November 18, 2023

November 16, 2023

November 9, 2023

October 31, 2023

October 30, 2023

October 25, 2023

October 19, 2023

October 2, 2023

September 22, 2023

September 20, 2023
Blog Categories
Blog Archives