Super Bowl Appetizer and Wine Pairing

February 3, 2022 | Wine and Food Pairings | Taylor Simpson
Super Bowl Appetizer and Wine Pairing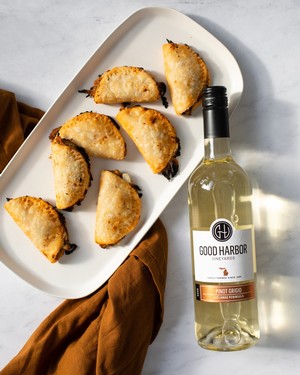 When you think of football, you may think of chicken wings and beer. But have you thought of a delicious, easy-to-eat pastry paired with a wine that is locally grown and produced in Northern Michigan? No matter what team you are cheering for, these Sun-Dried Tomato Goat Cheese and Caramelized Onion Empanadas from Taste of Home paired with our 2020 Good Harbor Pinot Grigio are sure to be the highlight of the party!
Sun-Dried Tomato Goat Cheese and Caramelized Onion Empanada
By: Taste of Home
Ingredients
1 tablespoon olive oil
1 medium sweet onion, halved and thinly sliced
1 log (4 ounces) fresh goat cheese, crumbled
1/4 cup finely chopped oil-packed sun-dried tomatoes, drained
Pastry for a single-crust pie (9 inches) or 1 sheet refrigerated pie crust
Directions
In a large skillet, heat oil over medium heat. Add onion; cook and stir until softened, 4-5 minutes. Reduce heat to medium-low; cook, stirring occasionally, until deep golden brown, 30-40 minutes. Remove from heat. Let cool slightly. Gently stir in goat cheese and tomatoes.
Preheat oven to 400°. On a lightly floured surface, roll dough to 1/4-in. thickness. Cut with a floured 3-in. round biscuit cutter. Place circles 2 in. apart on baking sheets. Place 1 heaping tsp. of filling on 1 side of each circle. Brush edges of pastry with water; fold circles in half. With a fork, press edges to seal. Bake until golden brown, 15-20 minutes.
*NOTE: Recipe for single-crust pie (9 inches) Combine 1-1/4 cups all-purpose flour and 1/4 tsp. salt; cut in 1/2 cup cold butter until crumbly. Gradually add 3-5 Tbsp. ice water, tossing with a fork until dough holds together when pressed. Cover and refrigerate 1 hour.*
Empanadas are a perfect appetizer for the big game because you can either make them in advance and freeze them OR make them the day of your event and refrigerate them!
The 2020 Good Harbor Pinot Grigio is bright with notes of Meyer lemon and danjou pear. "This dry, fruity wine has fresh acidity that balances the creamy and buttery textures of the empanada crust. The goat cheese, sun dried tomato, and caramelized onion center in conjunction with the creamy mid palate of the Pinot Gigio will ignite your taste buds," says Taylor Simpson, the co-owner of Good Harbor Vineyards.
Comments
Commenting has been turned off.
Recent Posts
November 18, 2023

November 16, 2023

November 9, 2023

October 31, 2023

October 30, 2023

October 25, 2023

October 19, 2023

October 2, 2023

September 22, 2023

September 20, 2023
Blog Categories
Blog Archives