Ten Things To Do When Visiting The Leelanau Peninsula
June 20, 2022 | Events | Devon Kessler
Ten Things To Do When Visiting The Leelanau Peninsula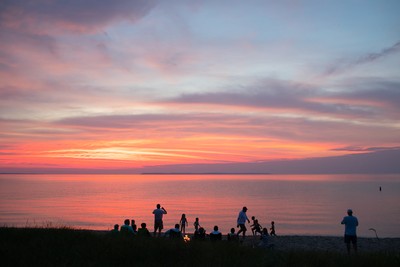 Whether you are making your way Up North to experience an unparalleled Northern Michigan summer experience, the jaw dropping beautiful fall colors, or a serene and tranquil snow covered winter, there are so many beautiful and fun places to visit! Here are ten things or places that are a must when visiting the Leelanau Peninsula:

1) Wine Tasting: The Leelanau Peninsula is home to more than 26 tasting rooms so there is no shortage of opportunities to enjoy and explore Michigan's wine country! When visiting the area, we suggest choosing 3-5 wineries prior to coming and setting up reservations, if one is needed. Although it can seem tempting to try to hit as many stops as possible, you will get much more out of your visits by spending more time at a select handful. Not only will you have a more immersive and relaxing experience, you will also have a more memorable time with your companions. The Leelanau Peninsula Wine Trail has all the information on the wineries and three trail loops in the area. Many of the wineries accept reservations, but many don't require one like Good Harbor Vineyards. Bonus tip: Hire an experienced tour company to drive your group if you're planning a tour day.
2) Visiting Sleeping Bear Dunes National Lakeshore: With a 35-mile stretch of beach along the Lake Michigan shoreline and 13 hiking trails, the the Sleeping Bear Dunes National Park is the perfect place to have a picnic or an afternoon hike. There are several things for families to enjoy including a visit to the Port Oneida Heritage Center. The National Park also offers ranger-led programs and events for visitors to take part in.
3) Visit Fishtown: A stroll along the docks in the historical fishing village, Fishtown, located in Leland is a must, especially for first time visitors! Wander around the former fishing shanties turned shops and pick up some gifts and gear. Don't miss Carlson's Fisheries to pick up some local fish, fish pate, fish sausage, or many other local treats! While you're there, you can also stop into the Manitou Island Transit to learn about trips to the Manitou Islands, which are also part of the National Park. Be sure to grab a sandwich from the infamous Village Cheese Shanty. Get info on the history and present day attractions.
4) A Trip to Lake Michigan: The beautiful shoreline of Lake Michigan is beautiful no matter the season. For convenient access and great rock hunting, check out Van's Beach in Leland. If you are looking for a chance to unplug during your visit, visit Good Harbor Bay to experience miles and miles of gorgeous shoreline and turquoise waters that are reminiscent of the Caribbean. The Sleeping Bear Dunes National Lakeshore offers a nearly 3 mile loop on the Good Harbor Bay Trail to access Good Harbor Bay Beach. You will find locals and tourists alike at County Road 669 and County Road 651 beaches. Check out other popular beach locations.
5) Do a Bike Tour: If you're looking for an unforgettable time while exploring Leelanau County, one of the best ways to do it is by bike! Bike tours allow you to make your way through rolling fields, farmland, forests, dunes, and vineyards at your pace! Check out Grand Traverse Bike Tours in Suttons Bay for a range of package options that include winery tours and self guided tours. You'll be able to explore the 17-mile TART Leelanau Trail. Another option is to explore the gorgeous Sleeping Bear Heritage Trail in the Sleeping Bear Dunes National Lakeshore and rent gear from The Cyclery in Glen Arbor.
6) Visit 9 Bean Rows: If you are looking for a place to get locally grown produce and locally made products, 9 Bean Rows is the place to go. Located just west of Suttons Bay, the small farmstead and artisan bakery & cafe offers wood-fired pizza, seasonal, just-picked no-spray produce and fresh bread. The offerings at the locally run business are the best to grab if you are heading out for a day at the beach or heading to a park for a picnic.
7) Visit Leelanau Cheese: Looking to add a European touch to your next picnic or gathering in Leelanau County? Stop by Leelanau Cheese on your drive North toward Suttons Bay along M-22. For the past 25 years, the creamery has been bringing award-winning cheeses to the area. Visitors are able to participate in workshops when visiting to learn more about the type of cheese the family-owned business makes and how to make it. When visiting the creamery, visitors are also able to watch the cheesemaking process through a big window in the shop.
8) Grocer's Daughter Chocolate: Are you a chocolate lover? If you're looking to satisfy your sweet tooth but don't want an ice cream cone, make sure to stop into Grocer's Daughter Chocolate in Empire to grab all of your chocolate needs! The long-standing confectionery offers several ways for you to enjoy the locally made product - including sharing their recipes for delicious treats. And if you can't make it all the way to Empire, Good Harbor Vineyards does offer some of Grocer's Daughter Chocolate Fudgsicles in our tasting room!
9) Visit Downtown Suttons Bay: While passing through this cute, little town, you will find a locally made gift that would make anyone smile. If you're looking for something to keep the kids busy while on a rainy day or want to fly a kite on a windy day, stop into Brain Storm! Have some extra time and the weather isn't great? Stop into Bay Theatre to catch the newest flick on the big screen and unwind.
10) Leelanau Sands Casino: Located in Peshawbestown, Leelanau Sands Casino is a place to press your luck at one of the more than 450 slot machines, table games, share a laugh with friends and enjoy a care-free night. With three different restaurants inside, there is sure to be something on the menu that will curb your appetite. If the slot machines and card games aren't your thing, try your hand in their Bingo Hall which always has some action going on.
Comments
Commenting has been turned off.
Recent Posts
November 18, 2023

November 16, 2023

November 9, 2023

October 31, 2023

October 30, 2023

October 25, 2023

October 19, 2023

October 2, 2023

September 22, 2023

September 20, 2023
Blog Categories
Blog Archives