The Art Behind Barrels in Winemaking
November 10, 2022 | Features | Devon Kessler
The Art Behind Barrels in Winemaking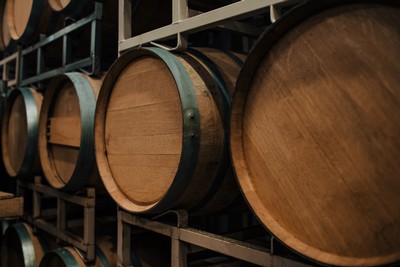 Wine barrels have been a staple in the winemaking process since the beginning of the time. Before the use of glass bottles was common, wine was stored in wooden barrels. Today, barrels are used in the fermentation and aging process for red wines and some white wines.
Oak barrels are the most popular barrels used in winemaking. There are two different species of oak used in barrels, American and French, and each one gives the wine distinctive flavors. According to Wine Folly, the major physical difference between the species is the density. French oak barrels tend to be more dense than American oak. This causes less oak lactones and oxygen to be made. When these are released into the wine, the characteristics and chemical behaviors will impact the chemistry and quality of the wine.
If the winemaker is looking to produce a lighter wine, such as Pinot Noir or Chardonnay, typically he or she would lean more toward a barrel made from French oak. American oak is ideal for bolder, more structured wines like Cabernet Sauvignon, Zinfandel, and Petite Sirah.
At Good Harbor, Head Winemaker Drew Perry exclusively uses French oak barrels for his barrel program. While there are plenty of viable alternatives, Perry explains he prefers how the French oak integrates with our more delicate wines.
There are several ways the oak in the barrels help the wine during the fermentation process but the three major ways it contributes to the final product are:
Adding flavor compounds - including aromas of vanilla, clove, smoke and coconut. Even though there are two types of oak barrels that are typically used in winemaking, all or some of these compounds help during the fermentation process.
Allows the slow ingress of oxygen into the wine. This process makes wine taste smoother and less astringent.
Provides a suitable environment for certain metabolic reactions to occur - this makes the wine creamier.
Typically, red wines are fermented in oak barrels as opposed to using stainless steel tanks. Red wines benefit from the integration of oak because it helps to stabilize the beautiful, rich color. The wines also receive small controlled amounts of oxygen through the pores of the wood. This helps polymerize the young grape skin tannins to longer chain compounds that are more pleasing to the palette, explains Perry. Aging in oak allows the wines to evaporate slowly over time which allows it to concentrate. Wines produced in Michigan tend to be lighter and more delicate overall since we are a cool climate growing region. This calls for oak aging that isn't overpowering.
"Oak as a storage vessel is not a last minute improvised decision. It shapes the wine a great deal, so the decision must be made well in advance and confidently," says Perry.
In the winemaking world, oak barrels are used more than once. Generally, Perry will not use our barrels beyond five uses - unless they are large format barrels. Wine will age just fine in a barrel that has been used more than five times, however, there is concern you could run into contamination.
Perry prefers to use a variety of oak barrels that are at different stages of use. Each wine, no matter the variety, must be aged in a variety of oak with different vintages under its belt. This helps create more of a dynamic profile. One example of this is our 2020 Zweigelt. In total, this red spent 14 months fermenting in French oak barrels - 33% in new, 33% in second use and 33% in third use - before being bottled.
Once the wine is removed from the barrel, there is a process to make sure it is preserved for the next vintage. When the barrels are emptied, they are power washed, steamed and ozoned to prevent spoilage while they sit empty. "Once dry, we will add sulfur gas to the barrel and seal it up as it awaits the next vintage," explains Perry.
Come visit our tasting room and look down into our cellar to check out all the barrels we have and what the cellar crew is up to! Oh, and of course, try our delicious wines!
Comments
Commenting has been turned off.
Recent Posts
November 18, 2023

November 16, 2023

November 9, 2023

October 31, 2023

October 30, 2023

October 25, 2023

October 19, 2023

October 2, 2023

September 22, 2023

September 20, 2023
Blog Categories
Blog Archives