The Eco-Benefits of Boxed Wine
August 16, 2023 | Box Wine, Tasting Room, White Wines | Devon Kessler
The Eco-Benefits of Boxed Wine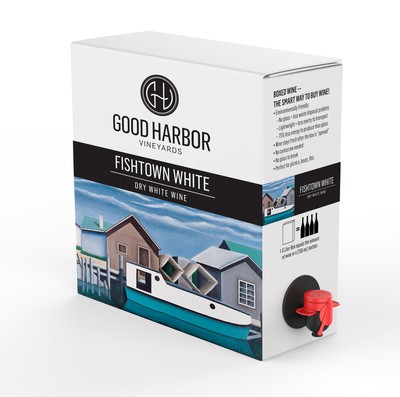 Good Harbor Vineyards has added to their line of alternative packaging with boxed wine. Our iconic Fishtown White is now available in a box. With the new addition to our line of products, we wanted to take a look at what makes boxed wine so popular in recent years. Beyond its convenience and cost-effectiveness, boxed wine has been steadily gaining popularity due to its remarkable eco-benefits, making it a responsible choice for both wine enthusiasts and the planet. So, grab a glass and join us on this journey to discover the many reasons why boxed wine is a toast to a greener future.
Before we can get into the benefits of boxed wine, we need to look at the history of the product. Wine experts believe boxed wine was created in the mid-1960s by South Australian Winemaker Thomas Angove when he patented the first ever bag-in-box. He intended to create a modern-day half-gallon wine jug. Within decades of its release, wine consumption in Australia doubled.
It wasn't until the 1980s when boxed wine started appearing on store shelves in the United States as a more convenient and longer-lived format to the jug wines that were predominant in the 1970s. Until the early part of the new millennium, most of the boxed wine brands that were on shelves had generic varietal names like "Rhine" and "Blush". Boxed wine is also not vintage dated nor did the producers state where the wine was from. By the 90s, boxed wine was notable for its convenience and its stability after opening.
According to a 2023 IRI Worldwide report, wine sold in 3-liter boxes is currently driving the majority of the growth in the wine industry. Sales for 3-liter boxed wine are up 3% compared to a year ago while the total wine category is down 1% over the same period.
Carbon Footprint
When it comes to carbon emissions, boxed wine has lower emissions than bottled wine. According to shrinkthatfootprint.com, the difference is because of the lower weight packaging material of cardboard versus glass. Cardboard emissions are estimated to be .5 kilogram CO2 per kilogram of cardboard while glass emissions are estimated to be .6 kilogram CO2 per kilogram of glass.
Less Waste
If you open a bottle of wine, you typically have just a couple of days to finish it before it goes bad. With boxed wine, you enjoy the wine for about six weeks after opening. A single box of Fishtown White holds four bottles - which is four less glass bottles being recycled compared to the one cardboard box. According to Mary Burnham, the director of public relations for Bota Box, there are millions of gallons of wine poured down the sink because people can't finish the bottle.
Portability
If you love bringing wine on-the-go, boxed wine is the way you want to go. Since it is lightweight and each box holds multiple bottles, you'll be able to save room - and money - in the long run.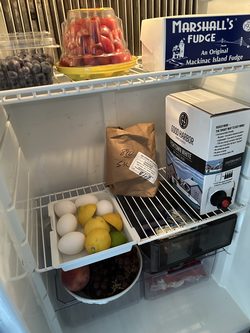 Good Harbor Vineyards is only one of two Michigan wineries that offer a boxed wine and the only Northern Michigan winery to have one. Our Fishtown White Box is the same wine that is offered in the bottle. Each box holds four bottles of wine and the compact size takes up less room in the fridge.
While boxed wine can be perceived as not as fancy compared to bottled wine, the alternative packaging may be better for the environment than the typical bottle. As more wineries and consumers look into ways to be eco-friendly, the use of boxed wine could possibly provide a happy solution in the coming years.
Comments
Commenting has been turned off.
Recent Posts
September 20, 2023

September 6, 2023

August 31, 2023

August 24, 2023

August 17, 2023

August 16, 2023

July 25, 2023

July 22, 2023

July 4, 2023

July 3, 2023
Blog Categories
Blog Archives