The History Behind One of Leelanau County's Summer Staples: The Leland Wine & Food Festival

June 3, 2022 | Events | Taylor Simpson
The History Behind One of Leelanau County's Summer Staples: The Leland Wine & Food Festival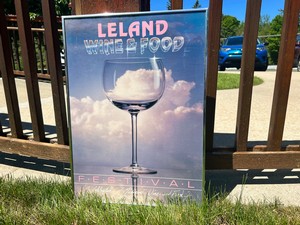 More than 35 years ago, a group of wine and food lovers put their heads together to figure out how to celebrate the Michigan Wine and Food Industry. Shortly after, the Leland Wine & Food Festival became a reality! Inspired by a visit to the Monterey Wine and Food Festival, Cris and Kathy Telgard brainstormed with Bruce Simpson and Larry Mawby on how to bring an event of that type to Northern Michigan. They believed that Northern Michigan had the potential to become a wine and food destination. Their vision and belief in the area became a reality. Thirty years later, through the efforts of many others who have made commitments to the area, Northern Michigan is a desirable wine and food destination within the Midwest.
The Leland Wine & Food Festival is the longest running wine festival in the state of Michigan. It was founded in 1986 by Cris & Kathy Telgard, who operated the Bluebird Restaurant for years, Bruce Simpson, who was the founder of Good Harbor Vineyards', and Larry Mawby, founder of Mawby. When it first started, the festival was funded through contributions made by The Telgards, Bruce and Debbie Simpson, The Leland Lodge, and the Michigan Grape and Wine Council - which was replaced by the Michigan Craft Beverage Council in 2018. At the beginning, the festival was used as a marketing piece to promote Michigan wines and the industry as a whole. It was an effort to promote a Michigan based wine and food experience.
The long-running festival has always been hosted in historic Fishtown and used to fit under one tent. Wineries that were involved in the first festival were Good Harbor Vineyards, Mawby Vineyards, Leelanau Wine Cellars, Boskydel Vineyard, St. Julian Winery, and a few others from southern Michigan. The original restaurant and food vendors included The Bluebird, The Cove, The Riverside Inn, and The Leland Lodge. The festival is looking to open for the 35th festival this year. The festival was canceled for two years due to COVID, but is excited to resume with the participation of thirteen local wineries, food vendors, and a great lineup of bands to provide excellent music throughout the day.
Come and meet us at the Leland Wine and Food Festival this June 11, 2022, hosted at The Leland Lodge! Taste local wines from 12 Leelanau Peninsula wineries and 1 local brewery plus enjoy delicious specialties from several local food vendors in the heart of Leelanau County. Buy your tickets today from MyNorth.com.
Comments
Commenting has been turned off.
Recent Posts
November 18, 2023

November 16, 2023

November 9, 2023

October 31, 2023

October 30, 2023

October 25, 2023

October 19, 2023

October 2, 2023

September 22, 2023

September 20, 2023
Blog Categories
Blog Archives