The Inspiration Behind the Pinot Noir-Zweigelt Blend
November 9, 2023 | Red and Rosé Wines, Tasting Room | Devon Kessler
The Inspiration Behind the Pinot Noir-Zweigelt Blend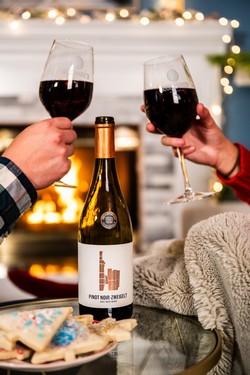 Whether you have been a fan of Good Harbor Vineyards since we opened in 1980 or if you have just discovered us, chances are you have heard about our delicious red blend, Pinot Noir-Zweigelt. This unique, captivating, and lesser known blend offers a rich tapestry of flavors from two different grape varieties that is sure to pique the interest of both connoisseurs and newcomers alike. The Pinot Noir-Zweigelt at Good Harbor Vineyards has a story to tell and a taste that will make you want more. In this blog, we will take a look at the decision that went into producing this blend and why we planted the Zweigelt variety on the Leelanau Peninsula.
The Varieties Themselves
Before we get into the blend itself, it may help if we learn a little bit more about each of the varieties that make it up - Pinot Noir and Zweigelt.
Zweigelt
The Zweigelt grape variety is the most widely planted red-grape variety planted in the Austrian wine growing region. The variety - which is a cross between Saint-Laurent and Blaufränkisch - was created in the 1920s by Dr. Fritz Zweigelt.
It has been proven that wine grapes grow between 30 and 50 degrees latitude. If you go any further south, it is too warm and any further north is too cold. Michigan is nestled right along the line with points ranging from the 41st parallel to the 47th parallel and the Leelanau Peninsula is located on the 45th Parallel. While Austria is located on the 46th Parallel, both growing regions have similarities that make them ideal for Zweigelt to grow.
Much of Austria is dominated by the chilly Eastern alps but there are areas which experience warmer temperatures. The country's wine region is found mainly in the north-east state of Niederosterreich, which borders Hungary, the Czech Republic, Slovakia, and Slovenia.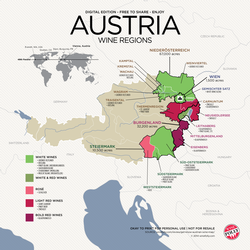 The meso climates of Austria are moderated by large bodies of water such as the Danube river. At Good Harbor Vineyards, most of our vineyards are located within two miles of Lake Michigan and the Good Harbor basin. The vineyard in which Zweigelt is grown in the Pinot Noir-Zweigelt blend is located less than 2 miles from Good Harbor Bay. Since it is very rare that Lake Michigan completely freezes over, it acts as a moderating influence to grow world class wine grapes. The large amounts of snow cover our area sees provides a protective insulating cover for the vines through the winter and into the early spring.
Pinot Noir
Pinot Noir is one of the world's most popular red wines. It is one of France's oldest grapes, which was cultivated by the Cistercian monks in Burgundy more than a century ago.
Wine experts explain that while the origins of the grape are unknown, Burgundy, France has long been the spiritual home of Pinot Noir. As the wines from this region rose in fame, winemakers from around the world have looked to emulate the region's success, therefore plantings of Pinot Noir have shown up in other parts of Europe and the New World.
According to research, Pinot Noir has shown to grow better in cooler climates because its trademark acidity, delicacy and finesse disappear in warmer climates and hot weather. Countries that produce some of the finest Pinot Noir are France, Switzerland, Germany, Austria, Chile, New Zealand, Australia, the United States - including cooler regions of California, Oregon, New York, and Michigan. Due to its popularity, Pinot Noir has become known as the "international" variety.
All of the vineyards where Pinot Noir for Good Harbor planted are located within two miles of Good Harbor Bay. Good Harbor Bay is located within Lake Michigan, which rarely entirely freezes over. This helps the lake act as a moderating influence for surrounding temperatures creating an ideal macro-climate for world class wine grapes like Pinot Noir.
Decision Behind Planting
As with most everything, the decision to plant Zweigelt in our vineyards came after research and a plan. When owners Taylor and Sam Simpson were exploring different red varieties that would grow well here and make world class wine, Taylor suggested Zweigelt. Taylor had experience selling Austrian wine when she was working in Chicago and enjoyed the variety. She knew the Leelanau Peninsula had similar growing conditions to Austria and suggested ordering some vines to plant and start producing the variety. Co-owner Sam Simpson explains that they started doing research and tasting some wines from similar geographic locations from around the world and decided that it was something that they wanted to do in a small quantity.
After producing a small amount of Zweigelt independently for a couple of vintages, the team felt that the attributes of Pinot Noir rounded the variety out nicely to elevate the wine. It took a long time to tweak the Pinot Noir clones used in this blend and how the two wines were treated independently to create one product that is better than the two parts by themselves.
Good Harbor Pinot Noir-Zweigelt
Our 2020 Pinot Noir-Zweigelt is a blend of 60% Zweigelt and 40% Pinot Noir. The fruit for this wine grows adjacent to each other in our oldest vineyard, Isobel's Vineyard. This vineyard is located just under two miles from Good Harbor Bay and faces south, which allows the cold air to drain north to south and eventually to the west.
When you open a bottle of this delicious wine, your nose will be met with bing cherry aromas and early season strawberries. A subtle vanilla aroma will also make a presence due to the 14 months this wine was aging in French oak barrels.
The cherry aromatics found on the nose follow through to the palate - along with flavors of raspberry jam - that pair nicely with a wide variety of meat dishes. We suggest pairing a glass of this wine with either fish cooked in a wine or tomato-based sauce or chicken, duck, or fowl.
This unique wine has won several awards and has been rated very highly by internationally known wine publications including Decanter (90 Points), Robert Parker Wine Advocate (87 Points), and Wine & Spirits Magazine (89 Points).
Comments
Commenting has been turned off.
Recent Posts
November 18, 2023

November 16, 2023

November 9, 2023

October 31, 2023

October 30, 2023

October 25, 2023

October 19, 2023

October 2, 2023

September 22, 2023

September 20, 2023
Blog Categories
Blog Archives