The Legacy of John and Millie Simpson

September 9, 2022 | Features | Taylor Simpson
The Legacy of John and Millie Simpson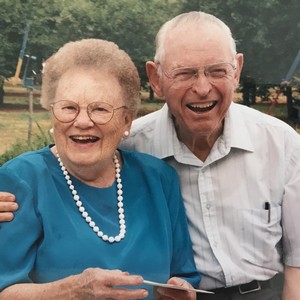 Grandparents play different roles in the lives of their grandchildren. Some live far away and get to spend limited time each year. Others live closer and are able to play a more active role. Even more, some grandparents are the sole providers for their grandchildren. In any role they are able to play, grandparents are influential in helping to shape their grandchildren's lives.
John and Millie Simpson were highly involved in the lives of their grandchildren. They started their family later in life and were thrilled to be able to have a family of their own. Having the opportunity to also be grandparents was something that was never taken for granted. They gave endlessly with their time and energy.
Family was a focus, and it was demonstrated through their actions of what love, compassion, and support should look like. They were present and active in the lives of their grandchildren and took every opportunity to help build, strengthen, grow, and enrich their lives with education and new experiences.
They were strong role models for their grandchildren and practiced what they preached. They were active in the community and believed that involvement is what helped a community thrive and grow. John and Millie, while very different in their temperaments and approach, were influential in the community.
John was generous and kind. He was a mover and a shaker and wanted to build and create more opportunity for his family and others. Millie was more subtle in her approach and efforts. She worked to help with community improvement and programs to help enrich the lives of those that lived in the area.
They were a dynamic team and together built a successful farm and business. They provided their son and daughter-in-law the opportunity to build Good Harbor Vineyards and supported them through their journey.
John and Millie were two people who cared deeply for one another and through hard work, dedication, and commitment, built a family and a business with a strong foundation to carry on for generations. Their influence continues to shine through in the lives of their grandchildren and great grandchildren and will forever be present within Simpson Family Estates.
Comments
Commenting has been turned off.
Recent Posts
November 18, 2023

November 16, 2023

November 9, 2023

October 31, 2023

October 30, 2023

October 25, 2023

October 19, 2023

October 2, 2023

September 22, 2023

September 20, 2023
Blog Categories
Blog Archives